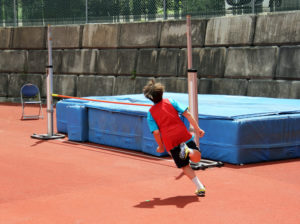 Often the best strategy for spiritual disciplines is to set very, very modest goals. Hopping over a low bar adds up to a high stack of results.

The new year is fast approaching when people will identify lofty goals for the coming year. People will decide to read through the Bible, memorize 100 verses, lose 50 pounds and pray for every country on the planet.
Those are great goals. There is a place for setting the bar high. But it is instructive to notice that the Bible points to the example of an ant when deciding how to pace ourselves.
The ants are a people not strong, yet they provide their food in the summer . . . Proverbs 30:25
Ants work one crumb at a time. Yet, they accomplish a great deal.
Rather than waiting until January 1 to set your goals for the year, why not set one really modest goal to accomplish today?
Begin to memorize one verse. All you need to do today is write it on a 3X5 card and say it 25 times. (See more on Scripture memory here).
Read one chapter of Scripture carefully asking God to open your eyes that you might see wonderful things.
Read one prayer — say Colossians 1:9-14 — and then pray this for someone you love.
Set the bar so low that you can hop over it this afternoon.
Then go ahead and hop.
Be sure and hop tomorrow as well.