Easily, my most important educational choice was deciding 25 years ago to systematically memorize Scripture.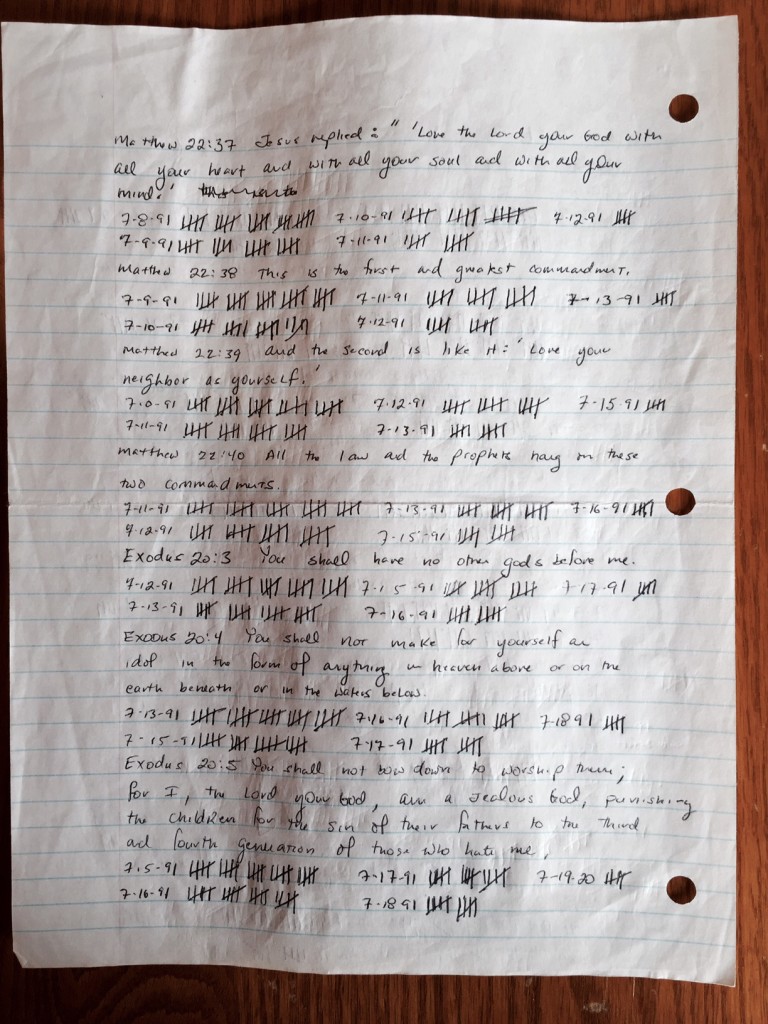 Here is a brief summary of the system I use for memorizing Scripture. I originally learned this approach from Jim Jeffery in the Fall of 1990, though I have adapted it over the years. My system shares similarities with An Approach to Extended Memorization of Scripture
.
Repeat to Remember
My system for Scripture memorization is divided into two parts. First, I repeat to remember.
After identifying a verse to memorize, I say it aloud. Ideally, I interpret the verse with the inflection of my voice and attitude of my heart as I say it. But there is some "chanting" involved. The idea is to wear a rut in my mind with God's Word. My goal is to to say the words of a verse so many times that they are as second nature as a phone number or address.
I "repeat to remember" using the following regiment for each verse I memorize:
Day 1- 25 times
Day 2 – 20 times
Day 3 – 15 times
Day 4 – 10 times
Day 5 – 5 times
So by the end of the 5th day I have repeated a given verse 75 times. As can be seen from the image to the right, there is nothing fancy about my system. I write the verse out and tally each repetition. The image shows that in July of 1991 I was memorizing Matthew 20:37-40 followed by the 10 Commandments.
On the first day, I often look at the verse while quoting it. If it is a longer verse, I memorize it one phrase at a time. I also look closely at it on the page and form a mental snapshot of the verse. I don't mean to imply I have a "photographic memory." I don't. But the combination of repeatedly vocalizing the words of the verse, hearing it as I say it, and picturing it in my mind, all serve to engrave the words on my memory.
On days 2-5, I still need to look at the verse again. But it grows easier to remember each day. If I struggle to remember a verse when reviewing it, I may quote it additional times.
Saying it aloud is important. The discipline of vocalizing each word aloud means that I also hear it.
When I am memorizing verses, I also incorporate quoting the texts into the fabric of ministry. For example, I have recently been memorizing Paul's wonderful prayer in Colossians 1:9-14. So even as I followed the formal regiment for memorizing those verses, I have repeated or paraphrased it many additional times during my own times of prayer and counseling sessions.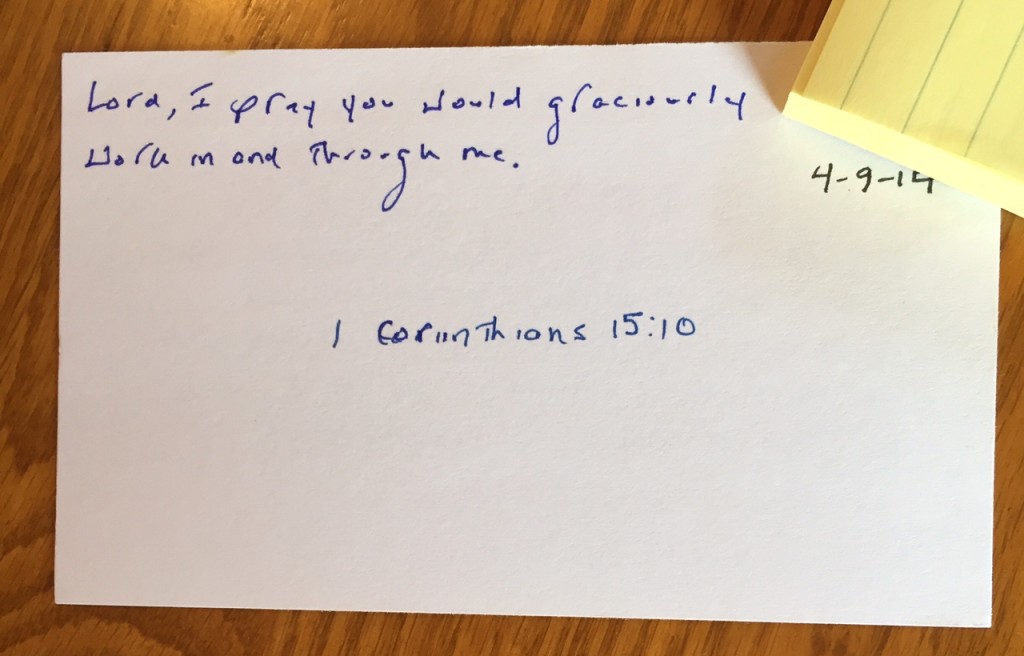 At other times, I incorporate verses I am memorizing into conversations or counseling sessions. I simply say something like, "Recently, I have been memorizing Colossians 1:9-14. In those verses, Paul prays . . ." Sharing verses in conversation models a commitment to God's Word and shares the content of particular passages.
Review to Retain
Second, having repeated to remember, I review to retain.
After I have completed the sequence of saying the verse 25-20-15-10-5 times across consecutive days, I write the verse on a 3×5 card and review it daily. Ideally, I review a particular verse:
Daily for 45-60 days
Weekly for a year
Monthly for 2-3 years
2-3 times per year for life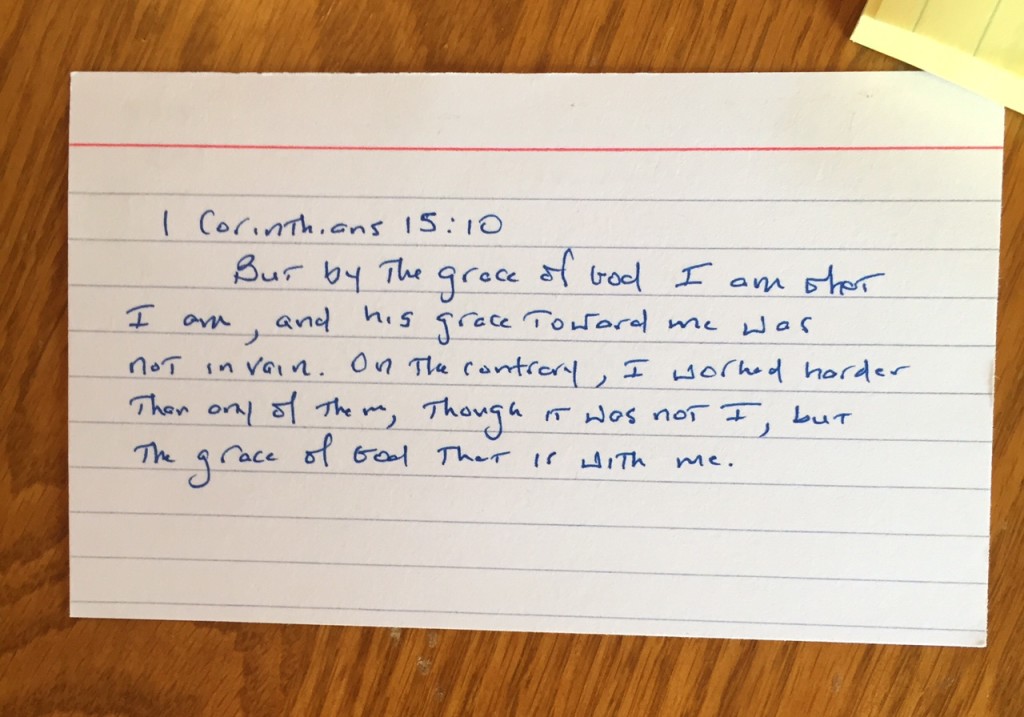 When I make a mistake in reviewing a verse, which I often do, I correct the mistake and say it the right way more than once. If I really struggle quoting a particular verse, then I put it through the "repeat to remember" sequence again.
Of course, there are many other memory techniques that can be employed including using music or association techniques. But in my experience, long term Scripture memorization comes down to repetition. Intentionally repeat a verse 4-500 times across several years and you will remember it.
Systematic long term memorization of Scripture requires only minutes on any given day. I took a break while writing this to review 10 verses. It took me one minute and twenty-two seconds to recite them. It was a minute and twenty-two seconds well spent.
See also:
Memorize a Psalm in Order to Be Moved