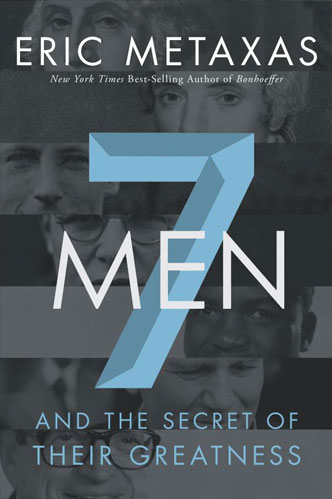 See also this file: 7 Men Curriculum Overview
A discussion guide with the goal of encouraging and equipping participants to be change agents in today's culture. Ideally, the study will be used to challenge participants  regarding a particular project, initiative or area of service.

The curriculum for this discussion group is the book Seven Men and The Secrets of Their Greatness.  In this book author Eric Metaxas  considers lessons to be learned from the lives of seven influential leaders with the goal of inspiring readers.
Metaxas's method in Seven Men is not to analyze the leadership of these men. Rather, he seeks  to put greatness on display. In his words,
[Seven Men shows greatness] . . .  in the actual lives of great men. You can talk about right and wrong and good and bad all day long, but ultimately people need to see it. Seeing and studying the actual lives of people is simply the best way to communicate ideas about how to behave and how not to behave. We need heroes and role models.
Metaxas goes on to explain that the greatest role model is the Lord Jesus Christ. And the authors of this discussion guide agree. To the extent that anyone leads, he or she only reflects Christ – – the source and sum of all brilliance. Truly great leaders glorify God by reflecting the example of Christ.
Metaxas says that he chose these particular men because he was looking for seven men who had all "evinced one particular quality: that of surrendering themselves to a higher purpose, of giving something away that they might have kept." We are looking to do the same. That is, we want to learn again that in losing our lives for Christ's sake, we find them.
To emphasize action in this study, we are encouraging participants to have in mind a particular initiative or area of service which they will focus on throughout the discussions. The idea is that we will directly apply what we are learning to that initiative or project. Think of at a leadership laboratory. Of course, we are praying that the discussions will have application for all of life! But we think it will be worthwhile for each of us to focus on some area which each of us is called to show leadership in. Examples might include:
Giving leadership to the beginning of a new local ministry in your church or community.
Giving leadership to a new era in your home. Perhaps you need to rekindle your marriage or celebrate your time together as a couple.
Consciously stepping up your involvement in your local church in a particular area. Perhaps, you need to help lead a capital campaign or inaugurate a new Bible study.
With particular initiatives in mind, the central goal of each discussion will be to challenge leaders to follow the example of  these great leaders and take action. By discussing and considering the heart and character of great men, our prayer is that we also will be challenged to to act, to execute, to advance plans to make a great difference where we have been called to live and serve.
The effectiveness of these discussions will not be measured in how well they maintain interest or provoke debate. Rather, the yardstick for success will be whether or not participants take leadership in new projects or at least jump-start or reinvigorate projects in which they are already involved.
Stating it in the negative, if the only outcome of these discussions is that we know more about history, or that participants enjoy getting together for coffee,  than the discussions will be a failure in terms of our goals.
Each discussion will be organized in four parts. Questions are designed to:
Encourage participants by considering the lives of the seven men and how their examples challenge us.
Equip participants by mediating on biblical truth  and the example of Christ.
Engage- That is, to  challenge participants regarding how they can become intentional about their leadership and execute a plan which advances the cause of Christ.
Execute the Plan – Each week participants will review specific actions taken to execute leadership initiatives.
Follow the hyperlinks below to each each individual discussion.
Introduction:  – Metaxas introduces the book by reflecting on several themes: (1) The need for heroes. (2) True manhood is neither being macho nor being emasculated. Biblical manhood is reflecting the example of Christ in self-giving love. (3) Courage is a matter of character and the heart. (4) Why he chose these particular men.
Chapter 1: George Washington (1732-1799) – George Washington was a leader of incredible ambition. Yet, at a critical time he paradoxically gave up power.
Chapter 2: William Wilberforce (1759-1833) – Rather than fleeing the pressures a Christian politician faced in the 18-19th century England, Wilberforce chose to stay in politics where he could exert a Christian influence.
Chapter 3: Eric Liddell (1902-1945) –  Eric Liddell is best known for his decision to not compete in the 100-meter dash in the 1924 Olympics. What is not known is how Liddell put Christ first at times when the risks were far greater.
Chapter 4: Dietrich Bonhoeffer (1906-1945) – Dietrich Bonhoeffer recognized the direction of Hitler's Germany when most other Christian leaders in Germany were duped. Though the Nazis executed Bonhoeffer when he was only 39, his leadership was so effective that his legacy continues today.
Chapter 5: Jackie Robinson (1919-1972) – Jackie Robinson endured incredible discrimination during his early years. However, the trials that oppressed Robinson as a little boy prepared him to become a great man.
Chapter 6: Pope John Paul II  (1920-2005) – Pope John Paul II was one of the most surprising popes in history. When Karol Wojtyla was named pope, he was largely unknown. Throughout his life, Pope John Paul II showed a heart for the weak and defenseless even as he battled an attempt on his life and Parkinson's disease.
Chapter 7: Charles W. Colson (1931-2012) – Chuck Colson worked hard, in his younger years, for President Richard Nixon — the most powerful man on earth, but he spent the second half of his life working even harder for the King of kings.
This Washington Post article on Eric Metaxas may be of interest. HT: Challies
Watch Eric Metaxas share his story  or read more about him on his web site.