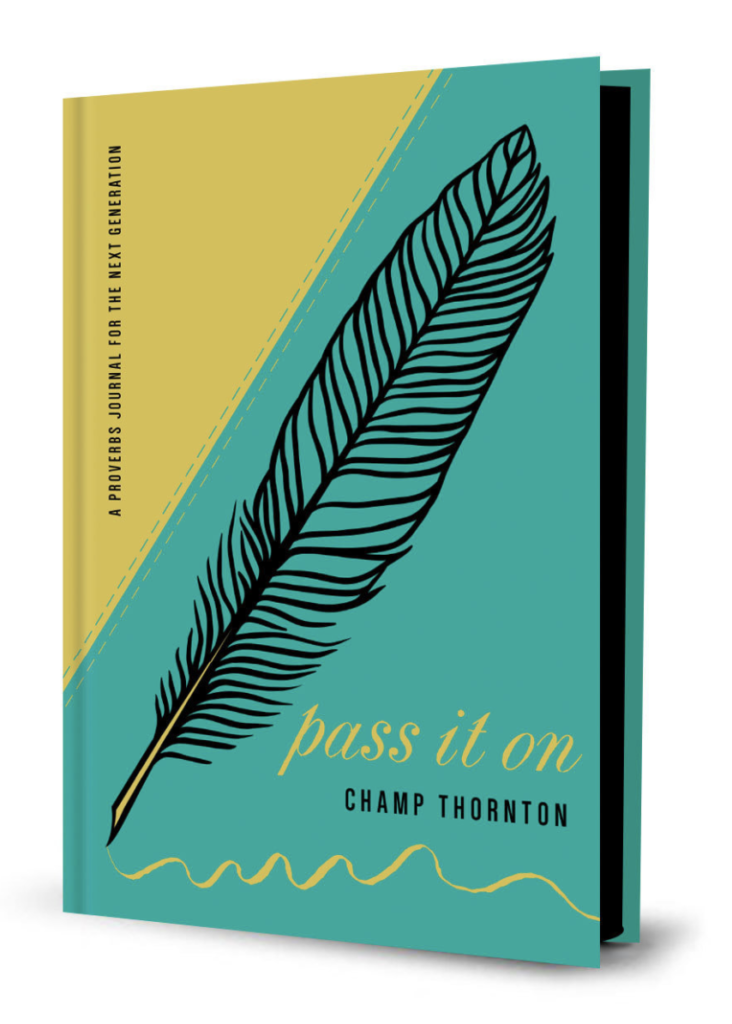 Give this Proverbs journal (Pass It On: A Proverbs Journal for the Next Generation
) as a gift and ask for it back when the recipient is through. You will both be blessed: eternally.
The book of Proverbs is a gift that God has given to help us find our way through the maze of life. In a complicated world, we all need wisdom. As Tim Keller has written, Proverbs is a mini-guide for life. For examples of how Proverbs can be applied, see the links at the end of this post.
Proverbs is designed to be a teaching tool for parents and leaders. The idea is not that we simply read Proverbs once and are done. Rather, we roll Proverbs around in our minds for decades — and then discuss it with those we influence.
We all desperately need to meditate on wisdom with wise people. We need to hear wise people comment on Proverbs in ways that are personal to us.
Some may counter, "Well, I'm not sure where to get started in studying Proverbs."
I have a recommendation this gift-giving season!
Champ Thornton has written a new book that introduces the book of Proverbs and then guides readers through a series of questions that become a journal. From the official blurb:
In Pass It On, readers are guided through the book of Proverbs and given the opportunity to write a personalized wisdom journal with their own thoughts and stories, creating a legacy of faith for the next generation and those they love. The perfect gift book to pass down through the generations.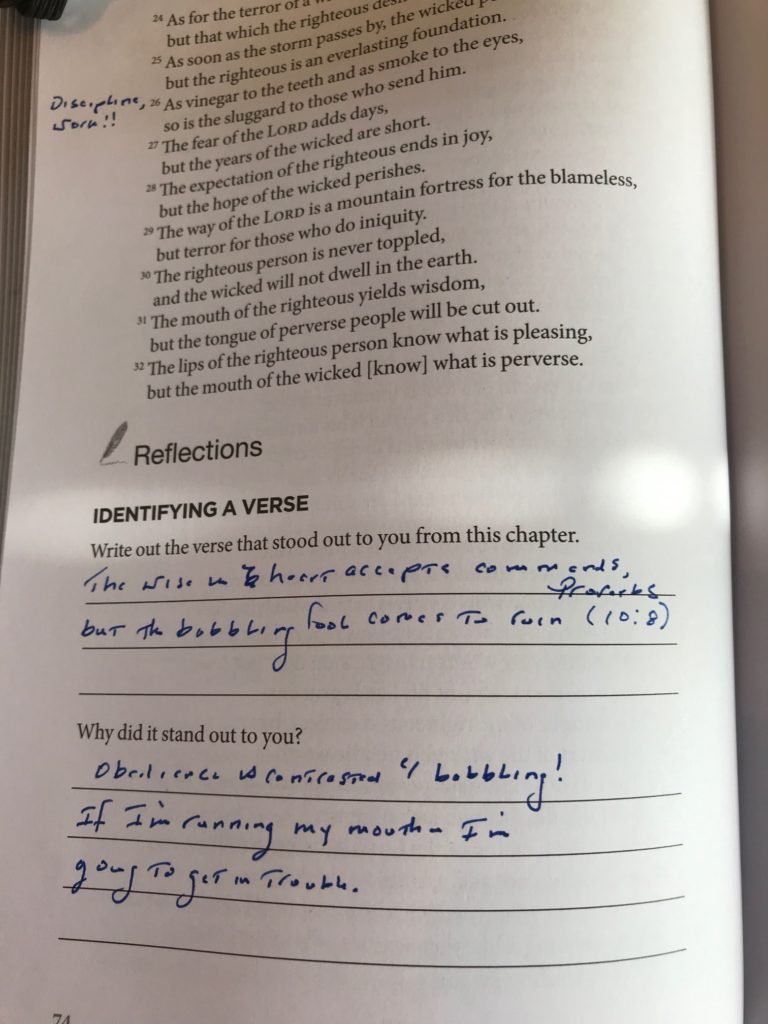 Here's the gift idea:
Give this book to your dad and ask him to use it for months or years to come. Encourage him to jot down his thoughts and share his take. I've already started jotting notes in my copy . . . the question is: will anyone be able to read my writing?
Or give this book to your husband to complete for your children.
Or give it to yourself and start making notes for those you know and love.
See also:
Reads Proverbs 43% of the time — the Rest of Your Life
Dig for Wisdom Like Its 1849 (Prov 2:4-5)
What Questions Did You Ask Yourself Today Based on Proverbs 12?
The Fear of the Lord is the Beginning of Wisdom (Prov 9:10)
Why Grooms Should Make the Wedding Dresses (Prov 24:3)
Be Thankful for Your Wife on the 31st (Prov 31)
Derek Kidner on Understanding the Genre of Proverbs
We Know You Don't See Your Blind Spot. Duh. It's a Blind Spot. (Prov 17:10)
Even in Laughter the Heart May Ache (Prov 14:13)
A Chapter of Proverbs Today the 29th (Fear of Man Will Prove to Be a Snare) (Prov 29:25)
On Not Grabbing the Dog's Ears (Prov 26:17)
If Your Boss is Atilla the Hun (Prov 27:18)
The Meaning of Proverbs 17:6 – On the Beauty of Grandchildren
Two Classic Pillars of True Old Testament Religion (per Derek Kidner) (Prov 2:5)
Feeling Overwhelmed and Undermotivated? (Prov 6:6-10)
Where There is No Fear the People Perish: One of the Most Misapplied Verses in the Bible (Prov 29:18)
Who Are You? Don't Be Too Sure You Know! (Prov 16:2)
Before You Make this Loan, "Ask How God is God's Credit?" (Proverbs 19:17)
Dream Big and Be Excited to See God Direct Your Paths in Unexpected Ways (Prov 3:5-6)
A Guide to Proverbs Within Proverbs (Prov 3:3-12)
Why the Circle Doesn't Always Remain Unbroken (Prov 16:28)
Leaders Know How to Pick Up a Crumb and Carry It Into the Next Room (Proverbs 30:25)
Don't Let Failure Give Way to Failure (Prov 24:16)
Sharpen Your Wisdom Saw Today (Read Proverbs 18)
Frame On Why We are Sometimes Contentiously Foolish (Prov 20:3)
There are Two Ways to Deal With a Lion
The Fear of Man Lays a Snare (Prov 29:25)
A Time to Use the SW Word (Prov 10:19)
Ever Fall on Your Face Like Kurt Warner? (Prov 16:18)
Mark Twain: A Lie Can't Get Half Way Round the World Before the Truth Even Gets Its Boots On (Prov 26:20)
Gossip Affects Your Spiritual Waistline (Prov 18:8)
Facing Some Orcs in An Adventure You Didn't Ask For? Persevere (Prov 24:16)
If All Your Friends are Named Beevis, Guess What Your Name Is (Prov 13:20)
Set the Bar for Spiritual Disciplines Low