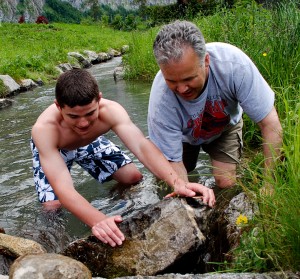 What are your favorite outdoor activities as a family? Children need to play outside!
Dr. Al Mohler recently wrote an article, Nature Deficit Disorder — Is Your Child at Risk?, in which he expressed concern for children increasingly not being outside. A fourth grade boy from San Diego is quoted as saying, "I like to play indoors better, 'cause that's where all the electrical outlets are." Mohler writes:
This is our Father's world, and we would do well to receive this world and enjoy it, while giving praise and glory to God for the beauty and bounty it contains. We understand that nature is not an end to itself, and we affirm that the creation exists as the theater of God's glory for the drama of redemption. All this should help Christians to remember that we honor God most faithfully when we receive His good gifts most gratefully.
Christians should take the lead in reconnecting with nature and disconnecting from machines. Taking the kids for a long walk in the woods would be a great start.
Here are some of our families favorite outdoor activities. What are yours?
Dam something up.  I've been damming up streams since I was 5 years old. Our all time favorite construction of a dam was in Switzerland. We spent hours on the dam in the picture.
Run through the sprinkler or slip and slide.
Get a giant soccer ball. Our son Benjamin recently found a 6 foot soccer ball online. He has to use an air mattress pump to inflate it. It's been a big hit with the neighbors. And it is strictly for outdoors!
Burn something (responsibly)
Play Street Hockey
Swim