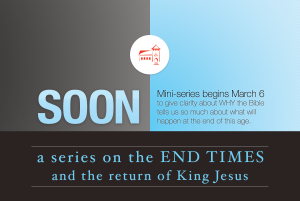 WHY does the Bible tell us so much about what will happen at the end of the age? Beginning on March 6, at the Red Brick Church, I will preach a new series on the end times and the return of King Jesus.
If you read the below verses from the book of Revelation, you will understand how I came up with the title, "soon."
The revelation of Jesus Christ, which God gave him to show to his servants the things that must soon take place. He made it known by sending his angel to his servant John . . . Revelation 1:1.
Therefore repent. If not, I will come to you soon and war against them with the sword of my mouth. Revelation 2:16
I am coming soon. Hold fast what you have, so that no one may seize your crown. Revelation 3:11
The second woe has passed; behold, the third woe is soon to come. Revelation 11:14
And he said to me, "These words are trustworthy and true. And the Lord, the God of the spirits of the prophets, has sent his angel to show his servants what must soon take place." Revelation 22:6
"And behold, I am coming soon. Blessed is the one who keeps the words of the prophecy of this book." Revelation 22:7
"Behold, I am coming soon, bringing my recompense with me, to repay each one for what he has done. Revelation 22:12
He who testifies to these things says, "Surely I am coming soon." Amen. Come, Lord Jesus! Revelation 22:20