Archives For Family
Even if you are an Auburn fan, this from Bear Bryant is good advice.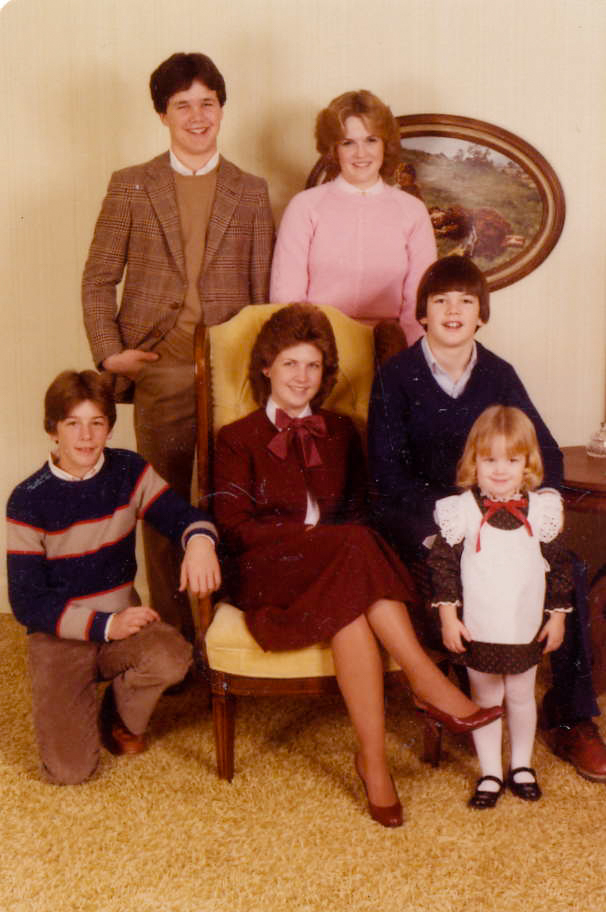 This post is published with the modest expectation that readers have the capacity to recognize foolish behavior and determine not to follow the examples described. As I do qualify in the body of the narrative, I preemptively point out that, as a future pastor, I was blameless.
The primary way that the New Testament describes the relationship between Christians is that we are brothers and sisters.
I'm the second of six children (Shelley, Chris, Mary Dawn, Danny, Rusty, and Erin) so I can work with  brother/sister imagery. In the picture to the right I am in the back row next to my sister Mary Dawn. From left to right in the front are Danny (the protagonist in many Brauns stories), Shelley, Rusty (the guy who made the shot), and Erin.
I remember launching water balloons off the roof of our farmhouse at my sister's first date. We also stole the same guy's hubcaps. He was a champion sprinter but I had a motorcycle.
My brother, Rusty, once shot my brother Danny in the eyebrow with a BB gun. Danny was looking out of a knothole in the barn when Rusty shot him. Fortunately, Rusty was a little off center and Rusty plunked him in the eyebrow. Ideally, little boys with bbs lodged in their face seek medical attention, but my brothers feared our mother more than infection. The BB stayed put. Years later, a surgeon removed it when Danny was getting medical attention for reasons which involve another story.
In Rusty's defense, he only shot Danny after Danny violated an agreed upon rule of BB gun fights. We had our own version of the Geneva Convention and war crimes were discouraged.
As a future pastor, I stayed away from the violent part of things. I was most often the voice of reason. And I don't remember my sister Mary Dawn getting stung with a BB in the same way she does. Though, I do remember her really accelerating after she got hit.
Danny has the leading role in many of the Brauns sibling-stories. Depending on how you look at, he was behind the wheel when two of my sister's cars went to the happy hunting ground. Danny was driving Shelley's Chrysler Cordoba when it caught fire and burned in Bonaparte, IA. He had previously taken her Mercury into a tree in the state park. Strictly speaking, Danny wasn't totally responsible for this car because Mary Dawn had previously wounded it when she plowed through a mailbox. Danny was with her at the time and to this day no one knows quite what happened. The mailbox, for the record, was on the opposite side of the road.
One year Mary Dawn was cutting down sweet corn when Danny tried to show her how he could disarm her of the knife. You know where this story is going. His hand was cut bad enough that he had to go to the hospital. Mary Dawn was too traumatized to drive, so Danny had to drive which might have been okay if (a) he was not losing blood at the time and (b) he was old enough to have a driver's license.
Danny didn't always drive himself to the emergency room. Mom drove when they pumped his stomach.
Danny was also present when I became violently ill with appendicitis while we were sledding. We were in the pasture at the time, a good walk from home, and there was nothing to do but for my brothers to pull me home on one of the sleds. They made it about 20 yards before they decided it wasn't worth it and left me in the snow, at which time I figured out that I had the strength to walk home. My sickness meant a delay in Shelley getting her braces off so she accused me of faking, but I was gloriously vindicated when they did surgery.
The Brauns siblings get together fairly often. Brothers and sisters stick together, BB gun fights and wrecked cars notwithstanding.
See also:
Remembering the 1972 County Fair in Keosauqua, IA
The 197
The decline of the family puts unbearable pressure on the state.
At the recommendation of Justin Taylor, I am reading with great profit, How the West Really Lost God by Mary Eberstadt in which the author considers the relationship between the decline of the family and the decline of Christianity. Eberstadt argues that the fortunes and momentum of Christianity and the family depend on one another.
In terms of the decline of the family Eberstadt observes that countries are now expected to fill roles once assumed to be the responsibility of the family.
The decline of the family has also put more pressure on the same welfare states that are already stretched beyond their fiscal limits –because more people now expect their governments to perform tasks once assumed by sons, daughters, maiden aunts, and the like. As families have shrunk, disbanded, re-formed, and otherwise come to reflect the reality that what were once permanent ties are now increasingly optional and fungible, Western men and women have ratcheted up the pressure on the state to operate as a family substitute–in particular, as a father substitute. This point was demonstrated perfectly if once more unwittingly in the United States in 2012, when a video was made by President Barack Obama's reelection team chronicled by a fictitious young woman named "Julia" benefiting from government assistance at each major stage of her life–every one of which forms assistance, from day care to retirement, are government substitutes for what the extended family was once competent to do and often is no more.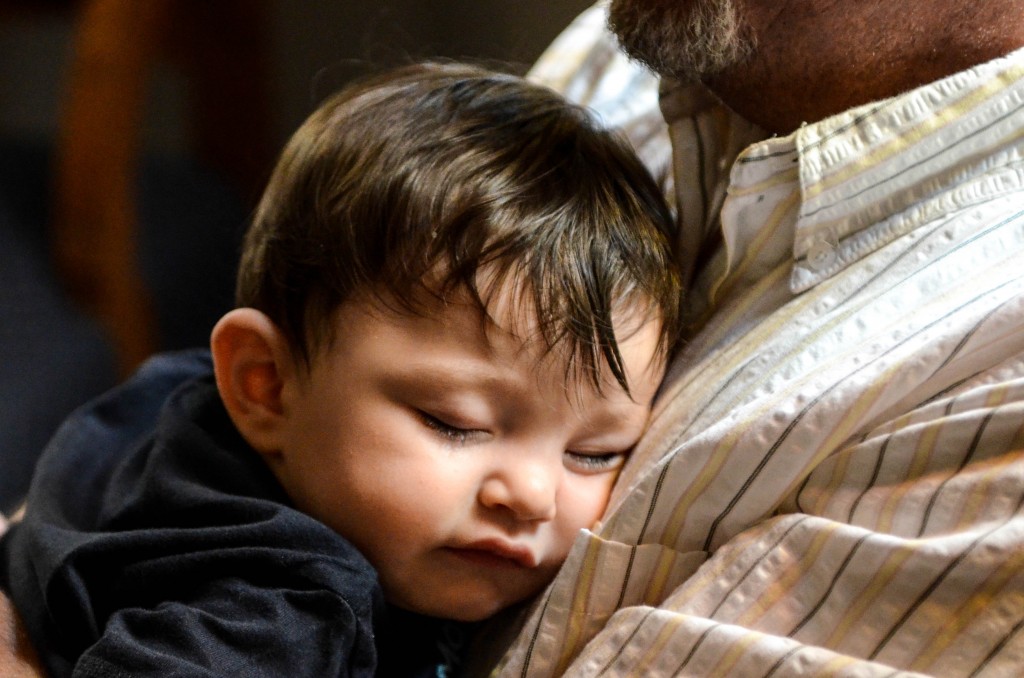 Proverbs 17:6 reads, "Grandchildren are the crown of the aged, and the glory of children is their fathers." The point is that grandchildren are beautiful jewels that grandparents wear like strings of pearls.

In leading funeral services I have often found myself comforting grandchildren by telling them what a treasure they have been to their grandparents. Looking down from the pulpit to the tear filled eyes of grieving grandchildren. My heart hurts for them.
On many such occasions, I have commented on the meaning of Proverbs 17:6. I say something like the following:
For the grandchildren, my heart goes out to you. There is something your grandma would want me to say publicly to you based on the meaning of Proverbs 17:6.
Proverbs 17:6 tells us that grandchildren are the crowned of the aged. That means that for your grandma, you were like a beautiful crown. She "wore" you around and you are far more beautiful than crowned jewels. So the Bible tells us: "Children's children are a crown to the aged."
There are queens in the world who wear diamonds or rubies that are worth more than the value of all our homes combined. You know that your grandma didn't have a crown like that. But what she had was far more valuable than diamonds or rubies.
For their part, most grandparents find it easy to agree with  Kitchen's (375)  comment on Proverbs 17:6:
The elderly man (Proverbs 16:31) finds a 'crown' of reward and honor in being surrounded by grandchildren (Gen 48:11, Psalm 128:5-6). His life has mattered, it continues on, in a sense, through succeeding generations. He has not only raised up godly sons and daughters, but he has raised them to raise up the same kind of children. There is hope for the future!
We should not miss that the relationship flows both ways. The meaning of Proverbs 17:6 also encourages us that, "the glory of children is their fathers." Nothing so adorns children, and brightens their lives, like godly fathers and mothers.
Kitchen (376) goes on to warn that it is not necessarily the case that grandchildren are a blessing to their parents, any more than fathers necessarily bring glory to their children.
 He who sires a fool gets himself sorrow, and the father of a fool has no joy. Proverbs 17:21 ESV.
 A foolish son is a grief to his father and bitterness to her who bore him. Proverbs 17:25 ESV.
*********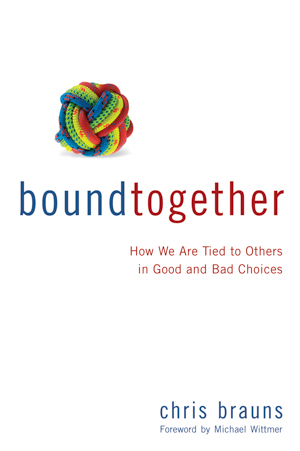 One of the reasons I wrote my book, Bound Together: How We Are Tied To Others in Good and Bad Choices, was to encourage people who have family members making poor choices. In the introduction to chapter 8, "A Red Rope for Hurting Families," I wrote:
How do you comfort someone who has a family member making poor decisions? For the nearly twenty years as a pastor, I have been prayerfully considering how to answer that question. What does a pastor say to a mother or father whose adult son is homeless because of drug addiction? Or to parents whose children have been arrested for a felony? Or to those whose children have denied the faith? What do you say to the father of a prodigal who has despised his family and travelled to a far country to squander his inheritance in riotous living (Luke 15:1-30)?
How does a pastor comfort a man who has found his unrepentant wife in bed with another man? How do you counsel a wife when her husband tells his her that she must accept his infidelity as a way of life?
If you are going through the pain of a wayward child, an unfaithful spouse, or some other broken family relationship, my heart goes out to you. I'm not sure that there is any category of pain worse than family pain. I've watched people battle cancer, heart disease, and paralysis. I've seen others lose jobs and careers. Yet, is has been my experience personally, and my observation as a pastor, that there is something uniquely devastating about the pain of a rebellious family member.
Even if you have not endured the pain of a loved one turning away from Christ, you have undoubtedly seen the varied emotions of those whose family members have let them down. Some are angry. Husbands blame wives and wives blame husbands. Others point an accusing finger at the youth group or church where they or their child never connected. Some beat themselves up and are utterly devastated feeling that they have failed those they love the most. Others toss in bed wondering where their son or daughter or husband or wife will spend eternity.
Many who have family members making decisions with eternally negative consequences simply live in denial. They don't even ask for prayer. They refuse to face the reality that their loved one will spend eternity apart from Christ. Who among us can think very often of that possibility for people we love? Yet it is there.
I approach this chapter humbly. I haven't arrived at a definitive solution for how to minister to those who have family pain. There will not be complete resolution to that problem until Christ returns.  But this is an area of ministry where the principle of the rope becomes very practical. If you are in pain over a loved one, I pray you will find some comfort here.
As I said at the beginning of this post, I often encourage grieving grandchildren with the meaning of Proverbs 17:6, but I never leave the funeral message simply with that point. It is always my goal to point grieving people to the Good News of the Lord Jesus Christ, because those who know Christ will meet again very soon, gathered around the throne of the Lord Jesus Christ – – in His presence – – all of us jewels who reflect His glory.
Joe Carter:
This Sunday is the day Americans set aside to honor their fathers. Here are 9 things you should know about dads and Father's Day.
1. After listening to a Mother's Day sermon in 1909, Sonora Dodd of Spokane, Wash. wanted a special day to honer her father, a widowed Civil War veteran who was left to raise his six children on a farm. The first Father's Day celebration, June 17, 1910, was proclaimed by Spokane's mayor because it was the month of Smart's birth.
2. The first presidential proclamation honoring fathers was issued in 1966 when President Lyndon Johnson designated the third Sunday in June as Father's Day. Father's Day has been celebrated annually since 1972 when President Richard Nixon signed the public law that made it permanent.
3. The rose is the official flower for Father's Day. Wearing a red rose signifies a living father, while white one represents a deceased father.
4. Father's Day is celebrated on the third Sunday of June in many countries in the world, including Canada, China, France, Greece, India, and Japan.
5. According to a 2012 poll from market-research firm Ipsos, most dads would prefer to either spend quality time with their families on Father's Day (40%) or receive no gift at all (22%). Gift cards were a distant third, at 13%. . . .
Read the rest here.
Auschwitz survivor Victor Frankl explained why he stayed in Austria to face the Nazis:
Shortly before the United States entered World War II, I received an invitation to come to the American consulate in Vienna to pick up my immigration visa. My old parents were overjoyed because they expected that I would soon be allowed to leave Austria. I suddenly hesitated, however. The question beset me: could I really afford to leave my parents alone to face their fate, to be sent, sooner or later, to a concentration camp, or even to a so called extermination camp? Where did my responsibility lie? Should I foster my own brain child, logotherapy, by emigrating to fertile soil where I could write my books? Or should I concentrate on my duties as a real child, the child of my parents who had to do whatever he could to protect them? I pondered the problem this way and that but could not arrive at a solution; this was the type of dilemma that made one wish for a hint from Heaven," as the phrase goes.
It was then that I noticed a piece of marble lying on a table at home. When I asked my father about it, he explained that he had found it on the site where the National Socialists had burned down the largest Viennese synagogue. He had taken  the piece because it was part of the tablets on which the Ten Commandments were inscribed. One gilded Hebrew letter was engraved on the piece; my father explained that the letter stood for one of the Commandments. Eagerly I asked, "Which one is it?" He answered "Honor thy father and thy mother that thy days may be long upon the land." At that moment I decided to stay with my father and my mother upon the land, and to let the American visa lapse.
Frankl's parents and his pregnant wife died in a concentration camp. Apart from him, among Frankl's immediate relatives, the only survivor of the Holocaust was his sister Stella.
Joe Carter has a post summarizing 9 things that should be known about "female body issues." Some of the points surprised me. I read them aloud to my wife; she was totally unsurprised, even when I told her women begin to be concerned about their "shape" at age 6.
Body image is the mental representation we create of what we think we look like; it may or may not bear a close relation to how others actually see us. Here are nine things you should know about female body image issues:
1. The Dove Campaign for Real Beauty hired a criminal sketch artist to draw women as they see themselves and as others see them. The social experiment revealed that women's perceptions of themselves were very different than how others view them.
2. According to the CDC, for women ages 20 years old and older, the average height for women in America is 5'3″ and weight is 166.2 pounds. For fashion models the average is 5'10" and 120 pounds.
3. By age 6, girls start to express concerns about their own weight or shape. 40-60% of elementary school girls (ages 6-12) are concerned about their weight or about becoming too fat. This concern endures through life.
Eric Metaxas on the economic implications of declining birth rates.
Taro Aso, Japan's finance minister, has only been on the job for a month but he's already stirred up enough controversy to last a lifetime.
In January, he made headlines around the world when he told a panel on social security reforms that the elderly should be permitted to "hurry up and die." That is the kind of comment that both causes great offense and hits too close to home. . .
Read the rest or listen here.
Al Mohler recently interviewed Charles Murray regarding Murray's forthcoming book, Coming Apart. Murray is an academic who has done in-depth statistical analysis of America's downward moral trajectory.
On one level Mohler's interview of Murray is an intellectual discussion. But it's interesting to note that Murray and Mohler both agree that the solution to the problem is not new public policy. Rather, stronger families are needed. A discussion which begins in statistical analysis, ends at the dinner table.
If you take the time to listen, be sure to hold on for Mohler's thoughts at the conclusion.
Listen here.
A transcript of the interview is also available.
You may have to click through to my site to watch the video.
HT: Grace to You