Archives For eschatology
David Platt explains why we shouldn't spend our money on the many books coming out about heaven, nor the small fortune it costs to go to the movie version.
Wouldn't it be sweet if this happened?
Cornelius Plantinga:
The point is not that our Lord hopes to catch us napping. Just the opposite. He hopes to catch us wide awake, on the job, eager, expectant, readiness is all.
Yet Jesus' prediction is that we will be surprised. He will come when we least expect him.
Perhaps one day when we are in church?
See also:
The Pastoral Privilege of Telling Our Flock When Jesus Will Return
Describing his destination, John Bunyan's pilgrim said:
I am going now to see that head that was crowned with thorns, and that face that was spit upon for me. I have formerly lived by hearsay and faith; but now I go where I shall live by sight, and shall be with him in whose company I delight myself. John Bunyan, Pilgrim's Progress.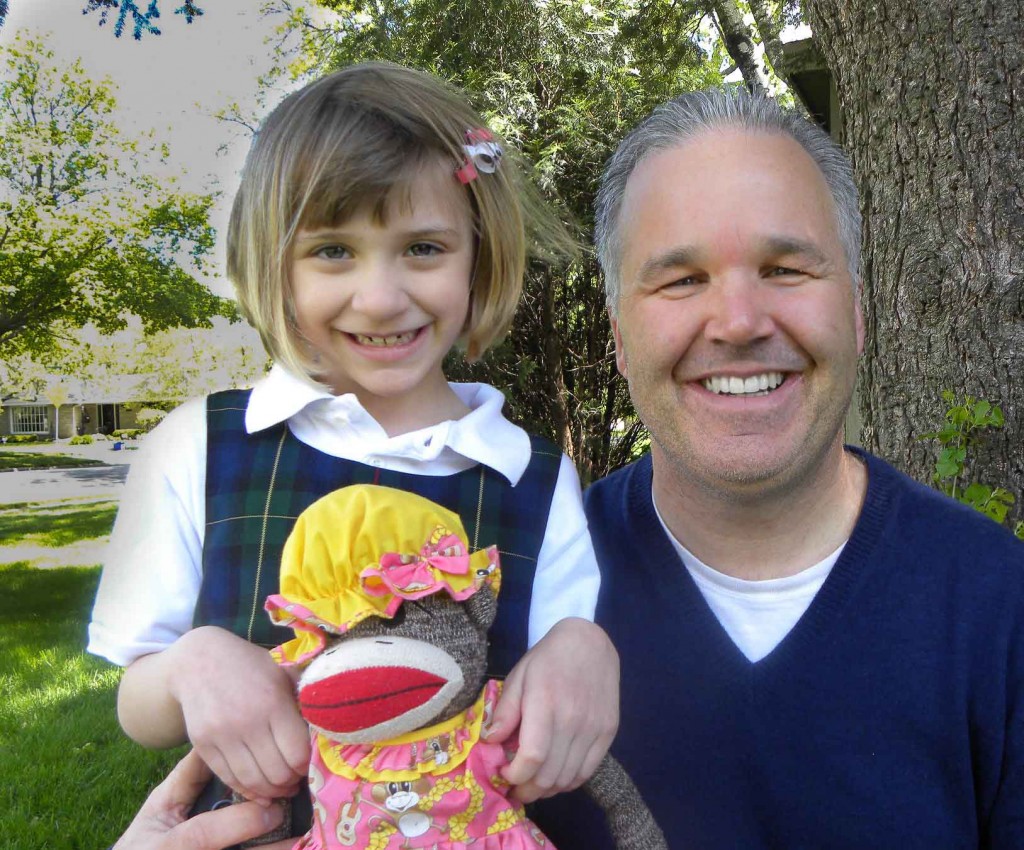 An eight year old in our church had some questions for me in an email. She asks better questions than many adults. So you all might be interested in her questions and my answers. The picture to the right is of the little girl and me prior to her losing teeth and me getting root canals.

Dear Pastor Chris
Happy New Year!
You may not know this, but I have email now. I got it on my eighth birthday in December.
I have two questions for you.
What if Jesus comes back and I haven't lost all my first set of teeth yet?
How will I be able to know who my Manga (Grandma) and Aunt Alice are in heaven?  Will they look the same as they did here?
Thank You for being my pastor and answering my questions.
E
**********
E,
How fun that you have email.
Though I am sorry to hear that your teeth are falling out.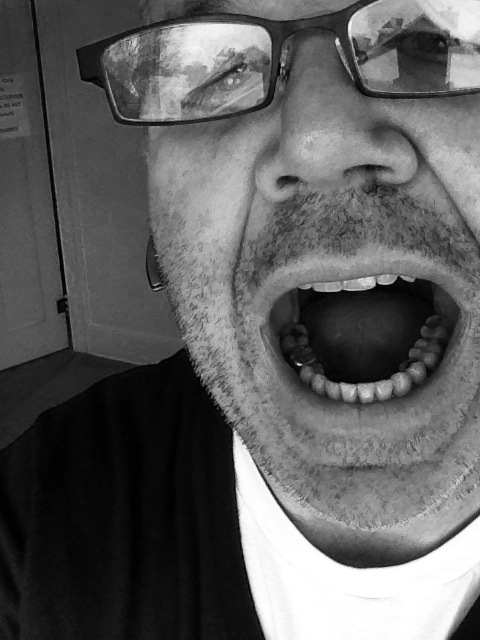 Eat bananas like your monkey friend. It is easy to eat bananas with only your gums.
I had 2 root canals this fall. I thought I was being brave. I only whimpered while the dentist was drilling. But then I got the bill and I screamed like a baby. It is sort of embarrassing looking back on it all. I am enclosing a picture that summarizes the experience. I recreated my scream experience. Study details in the picture:
The shiny thing on one side of my mouth is a temporary crown. It will be replaced with something more the color of teeth.
The nicer looking tooth on the right side is a permanent crown.
(A later addition: these crowns have nothing to do with crowns in the book of Revelation).
I have not shaved b/c it is a new year and I don't like shaving.
The thing on the left side of my face (as you look at the picture) is actually my blue-tooth cell phone dealie. It is not my ear.
Blue tooth is a kind of technology your dad can explain. It has nothing to do with the color of my teeth.
I brushed my teeth this morning. I don't want any more root canals.
If you look closely, you can see the reflection of the church steeple in my classes.
You asked about "Heaven" / the New Earth. I think we will all be young adults on the other side in the New Earth. Kind of like Prince Caspian was young again in the Chronicles of Narnia. This means that you will most likely have teeth. If you don't, then we will make fun of you, but you won't care because you will be glorified. But then we probably wouldn't make fun of you because we would be glorified too. It will all be good in any case.
We better tease one another now in case we're too cool for school in heaven and can't tease any longer.
Your aunt and Grandma will look far different than you remember them. If you have pics of them young, take a good look at those. It will help you find them. But it will be only a short term adventure and you will find them and it will be so, so exciting.
Worst case, you will need to include someone like Esther (Esther 2:7) in your search. Your conversation, might go something like – – – "Esther, you are even more beautiful than I imagined." She will respond, "Well, I always did look pretty good." This won't be arrogant because we won't be arrogant. Then she will say, "I like your dimples though. I always wished I had dimples." You will then talk about dimples at that point. My wife, Jamie,  will probably come up in the conversation with Esther since Jamie has such pretty dimples.
You might ask Ruth too, if she has seen your grandma. Everyone will know Ruth (Ruth 1:16) and I bet she is very sweet.
Or maybe Martha (Luke 10:38-42). I would go with Martha rather than her sister Mary, because Mary is so relational that you might get slowed down in conversation. Martha will have her own stuff to do and will send you right on your way.
Back to Esther, if she wants to talk too much about your dimples, just say, "Hey, Esther, I'd love to stay around and chat. But I'm actually looking for my grandma. . ." You can then give some basic information about your grandma. Just network for a few minutes and the next thing you know, you be giggling with Grandma.
I'm being a little silly, but mostly not. Very, very soon (Revelation 22:7) you will see your grandma and it won't be so much different than I am saying.
Of course, only people who are truly Christians will be together on the New Earth. I am thankful your grandma is with Jesus and that you believe in Jesus too.
Would you pray for me today? Pray that my back and neck don't hurt and that I can get lots done.And pray that my teeth don't keep falling out. It's a bigger deal for a guy who is 50 when his teeth fall out than for a little girl who is eight.
Pastor Chris Brauns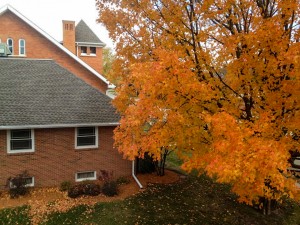 Scripture gives us very specific information about when Jesus will return. Pastors are privileged to remind their flocks of this truth.
I called on one of our older folks today. It is the nicest day of the year in Stillman Valley, and she lives an October football field away from church, so I walked. My friend is going through radiation and chemotherapy so she barely had the strength to let me in. But we soon got comfortably situated. She had to turn off a favorite Andy Griffith episode but she was pleased to see me just the same.
We visited for a bit and then I began to read Scripture and talk about different passages. We spent a lot of time in Revelation 22. We tried to picture the New Earth which was made easier by the fact that it is such a beautiful Fall day and the leaves on the maple tree in her front yard are just beginning to catch on fire.
One of the parts of Scripture we enjoyed the most was being reminded that in Revelation 22 Christ repeatedly says "when" he is coming back. You can read the answer for yourself:
    [22:1] Then the angel showed me the river of the water of life, bright as crystal, flowing from the throne of God and of the Lamb [2] through the middle of the street of the city; also, on either side of the river, the tree of life with its twelve kinds of fruit, yielding its fruit each month. The leaves of the tree were for the healing of the nations. [3] No longer will there be anything accursed, but the throne of God and of the Lamb will be in it, and his servants will worship him. [4] They will see his face, and his name will be on their foreheads. [5] And night will be no more. They will need no light of lamp or sun, for the Lord God will be their light, and they will reign forever and ever.
    [6] And he said to me, "These words are trustworthy and true. And the Lord, the God of the spirits of the prophets, has sent his angel to show his servants what must soon take place."
    [7] "And behold, I am coming soon. Blessed is the one who keeps the words of the prophecy of this book."
    [8] I, John, am the one who heard and saw these things. And when I heard and saw them, I fell down to worship at the feet of the angel who showed them to me, [9] but he said to me, "You must not do that! I am a fellow servant with you and your brothers the prophets, and with those who keep the words of this book. Worship God."
    [10] And he said to me, "Do not seal up the words of the prophecy of this book, for the time is near. [11] Let the evildoer still do evil, and the filthy still be filthy, and the righteous still do right, and the holy still be holy."
    [12] "Behold, I am coming soon, bringing my recompense with me, to repay each one for what he has done. [13] I am the Alpha and the Omega, the first and the last, the beginning and the end."
    [14] Blessed are those who wash their robes, so that they may have the right to the tree of life and that they may enter the city by the gates. [15] Outside are the dogs and sorcerers and the sexually immoral and murderers and idolaters, and everyone who loves and practices falsehood.
    [16] "I, Jesus, have sent my angel to testify to you about these things for the churches. I am the root and the descendant of David, the bright morning star."
    [17] The Spirit and the Bride say, "Come." And let the one who hears say, "Come." And let the one who is thirsty come; let the one who desires take the water of life without price.
    [18] I warn everyone who hears the words of the prophecy of this book: if anyone adds to them, God will add to him the plagues described in this book, [19] and if anyone takes away from the words of the book of this prophecy, God will take away his share in the tree of life and in the holy city, which are described in this book.
    [20] He who testifies to these things says, "Surely I am coming soon." Amen. Come, Lord Jesus!
    [21] The grace of the Lord Jesus be with all. Amen.
Question: When is Jesus coming back?
Answer: Soon!
I told my friend that "soon" is one of my favorite words.
We talked about how anxious we were as kids waiting for Christmas. We thought it would never get there. But Christmas came soon enough.
She shared with me that the worst part of cancer is not being able to get out. She is confined to her home. She doesn't feel like eating and she doesn't suppose that she will get a lot of Trick or Treaters this year. Though my little girl knocked on her door last year. Of course, we talked about her granddaughter who went off to college.
We weren't done in Scripture yet when we finished Revelation 22. We reviewed John 14, I started Psalm 23 and she quoted it to me, and we finished by talking about the story of Namaan  from 2 Kings 5. I knelt down and we prayed together. As her pastor, I was able to tell her with great confidence and sincerity that our congregation loves her. She responded, "I love you too."
Tim Challies:
The Bible tells me I am to store up treasures in heaven. It tells me there are eternal rewards for decisions I make in this life and it tells me I should desire these rewards and act accordingly. And yet sometimes I feel the desire for reward is a sign of spiritual weakness rather than strength, like that is for lesser Christians and that I should grow beyond it. I struggle with the idea that I am to be motivated to obey God in this world by the promise of reward in the next. It has always struck me as wrong, as something a little bit less than noble, that I would obey God not purely and solely out of a desire to obey him, but out of a desire to increase my eternal reward. Have you ever wondered about that?
Is it wrong to be motivated by rewards? Somehow in my mind it seems like the reward must negate the joy or the purity of obedience, and especially when it comes to the way I handle money. Shouldn't I want to give out of the joy of obedience? Shouldn't I want to give simply because I love the God who commands me to give generously? . . .
Read the rest of Looking Forward to Reward
Jim Hamilton in his highly recommended commentary on Revelation (pages 381-382):
My friend Denny Burk had prayed a beautiful prayer during our wedding ceremony, and the morning after the wedding I sat at the kitchen tale, reading that prayer. Before long I was weeping. I think it was a kind of emotional catharsis. Before the wedding I was amazed that I might get to be Jill's husband (I'm still amazed by it!), and I couldn't wait for it to happen. Now I was overwhelmed that it had really come true.
To be honest, I wondered if there was anything else to look forward to in life. The best day of my life had come and gone. Was there anything left to long for in life? I was too short-sighted to see that life with Jill was going to be even better than our wedding day itself and there were all sorts of things to look forward to, from doing things together to having children to walking life's pathways and enjoying each other's company. Just being with her is a blessing unto itself.
Perhaps when you think about what will happen in the new heaven and new earth you wonder if there will be anything else to look forward to. Perhaps you wonder if all suspense, all the drama, all the tension will be gone. To think about the new earth as through there might not be sufficient contrast to make it interesting would be as foolish as a single man being worried that after the wedding day there is nothing left to which to look forward.
One of my favorite parts in Prince Caspian is when Peter duals an evil king.
In the beginning, the dual isn't going Peter's way, and his brother Edmund asks during a break in the fight, "I say, Peter, you can beat him can't you."
Peter responds, "Well, that's why we're fighting him. To find out."
Lewis' point here was that part of the adventure of the Christian life is that we don't know how every particular dual will come out. That's why it's an adventure.
Jonathan had much the same attitude at Micmash:
Jonathan said to the young man who carried his armor, "Come, let us go over to the garrison of these uncircumcised. It may be that the Lord will work for us, for nothing can hinder the Lord from saving by many or by few." 1 Samuel 14:6
Jonathan did not say, "It is a slam dunk we'll win." Instead, he acknowledged that victory was in God's hands. But the possibility of defeat was what made it such an incredible victory.
You don't know how it will turn out, but why not:
Accept a leadership position at church.
Take a missions trip.
Share the Gospel with a colleague.
Invite a neighbor to be your guest at church. Don't make some general comment. Say, "This Sunday would you be my guest?"
Pray in front of your family. No guarantees someone won't laugh.
Make a generous gift to God's work. It's risky. Why not take a chance?
Who among us wants to get to the end of life having never taken chances for the King? Better to be in the fight and lose, then grow old in comfort.
There are no guarantees about how a particular matter in your life may be resolved. The adventure is in continuing on for Christ when the near future is uncertain. But, never forget this. Christ the King will win in the end.
See also:
John Piper: Don't Waste Your Life