Chris Bruno's new book, The Whole Story of the Bible in 16 Verses
, is a wonderfully accessible introduction to the subject of biblical theology. Not only does this book offer a readable map for understanding the overarching story of Scripture – – it will help readers see their place in THE great story. There is also a video introduction available.

Every story – – whether fiction or non-fiction has a plot – – a central conflict that moves to resolution. When properly understood, the plot of a given story can be summarized in a sentence or a paragraph.
The Wizard of Oz, for example, is one of the most well known fictional (as in it didn't happen) stories. It's a fairy tale with many details: a scarecrow, flying monkeys, witches from all corners of the compass, munchkins, a broom, and ultimately a bucket of water. It's a long tale. Yet, talking trees and a cowardly lion notwithstanding, the central storyline of The Wizard of Oz can be summarized in a sentence:
A young girl hates her ordinary circumstances but discovers by way of an extraordinary yellow brick journey that there is no place like home.
Once we have the plot in mind, we can see how all the details of the story of The Wizard of Oz serve the central storyline. The friends Dorothy meets turn out to be the people she already knows. The witch is a dreadful woman who hates little girls and dogs. And the bump on the head helps Dorothy realize there is no place like home, even if her Kansas home isn't in technicolor.
Like the Wizard of Oz, the Bible tells a story. Unlike the Wizard, the Bible is a true story – –  the story – – but it is a story nevertheless. As such, it has a plot which, as I have said, is a central conflict that moves towards resolution.
Theologians classify a consideration of the central story-line of the Bible as a part of the discipline of biblical theology. Understanding biblical theology is essential not only for studying the Bible, but also for making sense of life. After all, the story of the Bible is the story of humanity: why we are here, what we're here for, what went terribly wrong, and how it will be set right. (See here for D.A. Carson's summary of the Bible in 221 words!)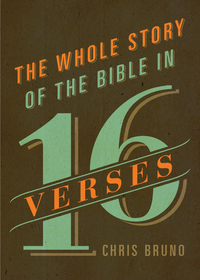 Unfortunately, for many years – – centuries even – – the subject of biblical theology has been relatively neglected. Many in our churches cannot concisely summarize the storyline of the Bible. This is unfortunate, not only because knowing the storyline gives a road map to see how the pieces of Scripture fit together, but it also shows us how we can all be written into the story.
In recent years, theologians have rightly seen the need to write on biblical theology which is great news. But, with a couple of exceptions, the books have been written on a technical level. Your average book on biblical theology has the same dimensions as a washing machine. These large tomes are wonderful for those comfortable hefting them about and interacting with their technical vocabulary. But they aren't ideal resources for taking to one's summer cottage to read in a hammock.
Recently, however, Chris Bruno has written a concise book on biblical theology that is easy for to read regardless of one's background. Chris identifies 16 verses that trace the key points of the biblical narrative. If you give this book just a few hours, you will be able to distill the message of the Bible in a paragraph or two. In the process, you will see how the book of Genesis fits together with Isaiah, Ezekiel, and much more. You can read it while in your hammock without bending the supporting trees.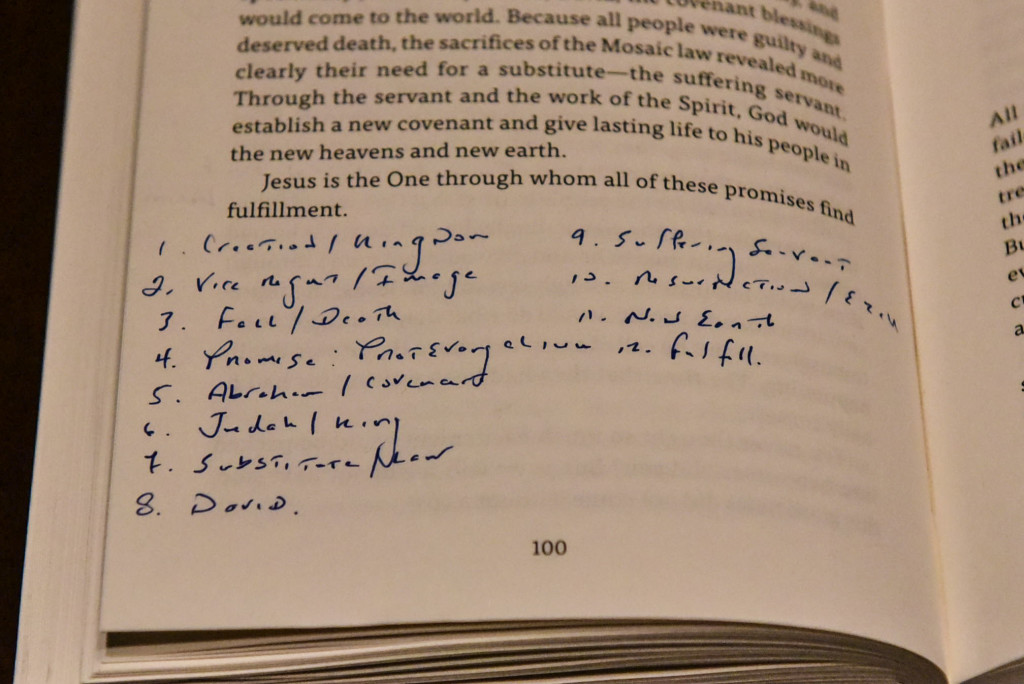 I read the entire book in less than an afternoon — it's what pastors do on their day off – – or at least this pastor. At the end of nearly every chapter I forced myself to write out the summaries of every previous chapter. By the time I got to the end, I could trace Chris's summary. You can see what my notes looked like by the time I got to page 100 – – and if you can decipher my handwriting you may have a future in cryptology.
But don't rely on my scribbles or summary. Get your own copy. I am encouraging the people of our church to read this book – – mark it up – -talk about it – – and enjoy being students of biblical theology.
The Whole Story of the Bible in 16 Verses
is an ideal resource for small groups or for helping a pastor organize a preaching series. I highly recommend it.
See also:
The Whole Story of the Bible in 16 Verses
Three Minutes to Understand the Message of the Bible
D.A. Carson: The Message of the Bible in 221 Words
Without a Dark Introduction, There are No Fairy Tale Endings