Archives For admin
In his short essay, "Christian Doctrine and Life," The theologian John Murray stressed that the great doctrines of the Christian life have implications for everyday life.
Consider these texts:
[43] But it shall not be so among you. But whoever would be great among you must be your servant, [44] and whoever would be first among you must be slave of all. [45] For even the Son of Man came not to be served but to serve, and to give his life as a ransom for many." Mark 10:43-45
[21] For to this you have been called, because Christ also suffered for you, leaving you an example, so that you might follow in his steps. 1 Peter 2:21
Elsewhere, I have given a brief overview of systematic theology for our church family. But one thing that we must never lose sight of is that even though doctrine may stretch our intellect and vocabularies, it is not in any sense removed from every day life. John Murray beautifully explains this point. Here are a few excerpts he makes relative to the above Bible texts and others as well:
"It is worthy of note that some of the most characteristic definitions of Christ's atoning accomplishment are given in appeals to believers to practise the most elementary duties of their heavenly vocation." cf. (Matt 20:28, Mark 10:43-45).
"And the great lesson for our present interest is that there is a direct connection between the most sacred truths of our faith and the most elementary duties of our Christian calling. The great truth of the atonement, than which nothing is more central, is the incentive to humble, devoted, self-sacrificing service in the kingdom of God."
"There is a straight line of connection between the death of Christ and elementary virtues of the Christian life."
And when you pray, do not heap up empty phrases as the Gentiles do, for they think that they will be heard for their many words. Matthew 6:7
When we read Jesus' admonition to not "heap up empty phrases" we feel a tension with other texts in Scripture that tell us to "pray without ceasing (1 Thess 5:17)" and with persistence (Luke 18:1-8). Frederick Dale Bruner, as is so often the case, offers profound insights:
When Jesus discourages quantity in prayer is he not discouraging prayer itself? Here, too, however, in a spherical world, the shortest distance between two points is not a straight line. The paradox of prayer is that only when it is relieved of the necessity of much prayer will people experience the freedom for much, they will surprisingly, desire to pray more. (The Christbook, 289).
"Now the Lord is the Spirit and where the Spirit of the Lord is, there is freedom. And we all, with unveiled face, beholding the glory of the Lord, are being transformed into the same image from one degree of glory to another. For this comes from the Lord who is the Spirit (2 Corinthians 3:17-18)."
Nothing is more practical to the Christian than considering the dynamic by which we grow as believers. The Christian understands that he or she is to become more like Jesus? But how exactly does that take place? How is it that we make progress as Christians?
How can we truly have victory over pornography?
How can we finally show self-control with the things we say?
How can we learn to be more patient with family members?
In his beautiful essay, "The Pattern of Sanctification," John Murray explains that the basic dynamic by which the Christian grows is to give focused attention to Christ as He is revealed in Scripture. In so doing, our hearts are graciously warmed and softened towards Christ by the power of the Spirit, and we become more like Jesus.
Murray says it far more profoundly than I do:
". . . the import is that, as we come into intelligent, believing, and adoring encounter with the glory of Christ, we take on the characters which belong to him.  We must remember, of course, that supernatural agency is at work in this process.  But the means by which this work of grace is wrought are clearly indicated. The glory of Christ is portrayed and exhibited to us in the pages of Scripture. The Holy Spirit illumines our minds and quickens our hearts to behold the glory; he takes the things of Christ and shows them to us. He thus glorifies Christ . . . This process of conformation to the image of Christ does not take place by quiescent passivity on our part.  It is only by concentrated application to the data of revelation that we come into this encounter with the glory of the Lord. And all the energies of our being are enlisted in the exercise of adoration, love, obedience, and fellowship (John Murray, Banner of Truth, Collected Writings Vol. 2, 311-312).""
The beauty of growing in this way as a Christian is that when we are increasingly conformed by the power of the Spirit to look like Jesus Christ-like behavior begins to burst forth in many areas of life. To the extent that we are like Jesus, we manifest the fruit of the Spirit.
The action steps that follow are obvious. Christians should meditate in an ongoing way on Christ as He is revealed in the Bible. This means, especially, being under the preaching of the Word, sharing the ordinances / sacraments together, meditating on and memorizing the Word, praying, and sharing life with the community of the redeemed.
One of the points I stress to our church family in an ongoing way is that a sermon should be a biblical bullet fired at the life of the listener. In the preaching from our pulpit, we are praying that sermons will be:
Biblical – Clearly true to the text, centered on Christ and the gospel.
Bullet – Focused on a central thought that is an engine powerful enough to pull the freight of the passage. Every sermon needs a clear focus.
Fired – which is to say preach with unction or the power of the Spirit. We are praying that our preaching will go out with the power of the Spirit.
At the life of the Listener – Significant for life in the 21st century.
Most authorities on preaching recognize the importance of a clear central thought. Below are some classic quotes including my mentor's (Haddon Robinson) memorable quote, "a sermon should fire a bullet not buckshot."
Haddon Robinson:
Rhetoricians emphasize the necessity of a clearly stated central thought so strongly that virtually every textbook devotes some space to a treatment of the principle. Terminology may vary – – central idea, proposition, theme, thesis statement, main thought – – but the concept is the same . . . A sermon should be a bullet, not buckshot. Ideally each sermon is the explanation, interpretation, or application of a single dominant idea supported by other ideas, all drawn from one passage or several passages of Scripture.[1]
Duane Litfin:
. . . a speech to be maximally effective, ought to attempt to develop more or less fully only one major proposition. . . Any unit that does not contribute to the whole should be eliminated, regardless of how interesting it may be in itself.[2]
J.H. Jowett:
I have a conviction that no sermon is ready for preaching, not ready for writing out, until we can express its theme in a short, pregnant sentence as clear as crystal. I find the getting of that sentence is the hardest, the most exacting, and the most fruitful labour in my study. To compel oneself to fashion that sentence, to dismiss every word that is vague, ragged, ambiguous, to think oneself through to a form of words which defines the theme with scrupulous exactness – – this is surely one of the most vital and essential factors in the making of a sermon: and I do not think any sermon ought to be preached or even written, until that sentence has emerged, clear and lucid as a cloudless moon.[3]
John MacArthur:
. . . make sure that every expository message has a single theme that is crystal clear so that your people know exactly what you are saying, how you have supported it, and how it is applied to their lives. The thing that kills people in what is sometimes called expository preaching is randomly meandering through a passage.[4]
Keith Willhite:
. . . I am convinced that preaching with a single proposition is the best way to learn to preach . . . A single bullet is much more powerful than a small piece of shot or even the collective effect of many shots. A disjointed comment on words or phrases will be of little value in changing lives since propositions of God's Truth, not minutiae, move people to think and act differently.[5]
Sidney Greidanus:
Whatever word we use, the theme or idea of the sermon ought to state as clearly and succinctly as possible the point the sermon seeks to make.[6]
Samuel T. Logan:
But a sermon, to be great, to be effective, whether it is long or short, must be focused. . . The aim must be precise and good preachers recognize this, often instinctively.[7]
Bryan Chappell:
State each idea in such a way that it directly develops the overall purpose of the sermon or immediately supports a point that does.[8]
Chappell's "3 A.M. test" is especially vivid.
The 3 A.M. test requires you to imagine [someone] awaking you from your deepest slumber with this simple question, 'What's the sermon about today Pastor?' If you cannot give a crisp answer, you know the sermon is probably half-baked. Thoughts you cannot gather at 3 A.M. are not likely to be caught by others at 11:AM.[9]
Robert Lewis Dabney:
Affirmatively, rhetorical unity requires these two things. The speaker must, first, have one main subject of discourse, to which he adheres with supreme reference throughout. But this is not enough. He must, second, propose to himself one definite impression on the hearer's soul, to the making of which everything in the sermon is bent.[10]
Tony Merida:
At the heart of classical expository preaching theory is the conviction that the sermon is mainly about one big idea or theme.[11]
*********
[1] Robinson, Biblical Preaching: The Development and Delivery of Expository Messages, 35-36, 35.
[2] Litfin, 80, 153.
[3] Jowett, quoted in Robinson, Biblical Preaching: The Development and Delivery of Expository Messages, 37.
[4] MacArthur, "Frequently Asked Questions About Expository Preaching," 347.
[5] Willhite, 13, 22.
[6] Greidanus, 137.
[7] Samuel T. Logan, "The Phenomenology of Preaching," in The Preacher and Preaching: Reviving the Art in the Twentieth Century, ed. Samuel T. Logan (Phillipsburg, NJ: Presbyterian and Reformed Publishing Company, 1986), 129.
[8] Chapell, 133.
[9] Ibid., 39.
[10] Robert Lewis Dabney, Sacred Rhetoric: Or, a Course of Lectures on Preaching (Richmond: Presbyterian Committee of Publication, 1870), 109.
[11] Tony Merida, Faithful Preaching: Declaring Scripture with Responsibility, Passion and Authenticity (Nashville: B&H Publishing Company, 2009), 76.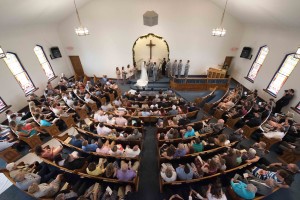 Together — as one — make your marriage a more magnificent mirror so that together you more fully reflect the beauty of Christ and the loveliness of the gospel.
I didn't officiate for either the vows or declaration of intent at my daughter's wedding. I did give the charge / mini-sermon. When the time came, I asked the ushers (my two sons) to position a full-length mirror on the platform. It was one we borrowed for the bride to use while getting ready.
*          *          *          *          *
To begin with, let me tell you about a conversation I had with this mirror last night. It was just the mirror and I alone and we had a nice chat.
It may surprise Alex's family and guests– who do not know me as well– to hear that I talk to mirrors. I suppose it could possibly even concern some – – but my people are from rural Iowa. It's a solitary life out there on the prairie and we learn to hold conversations when we're by ourselves that those from more populated areas might find strange.
Yesterday we had a house full of bride's maids. The place was positively buzzing with energy. But eventually everyone went to bed and I was left alone with this full-length mirror we borrowed to use while our bride is getting ready.
I had never met this mirror before, person to mirror, so as the host of my home I made polite introductions. I gave my name and said, "Welcome. You're a fine looking mirror."
The mirror thanked me and expressed appreciation for our hospitality.
Making conversation I said to the mirror, "It seems like a beautiful thing, to be a mirror."
He liked the question. He responded expansively, "You know, it really is. You participate in the best occasions in life: Children starting to school. Mothers face painting for football games. Proms. There's nothing I would rather do than be a mirror."
I agreed that it sounded nice.
Then the mirror graciously volunteered, and I appreciated him doing so, he offered: "Say, I know that I'm here to serve you as a family. And I'm happy to do it. I wonder if you have a word for me about the big event tomorrow. How can I help you for the wedding? Do you have any special requests?"
It was a question I was hoping for and I said, "Well thanks for asking. Actually, as it turns out, I have four words for you. And, just to help you remember, I alliterated my points. I am a preacher after all. So here are 4 m's for you to remember the day of my daughters wedding. I counted them off with my fingers:
More
Magnificent
Modest
Mirror
I was concerned that the list might be a bit long for a mirror, so I added, "I know you only asked for one "m" and that's four. So if you need to remember only one of the four, remember the word more."
The mirror thought about all of this. He mumbled m's. He paused and thought for a few minutes.
I thought maybe he didn't get them. So I started to repeat them . . . but the mirror interrupted, "No. I've got it."
The mirror cautiously explained, "Well, I can work with three of the four. Obviously, I know a mirror's job. I reflect images. I'm up for magnificent. Every day work is okay. But mirrors, even small town mirrors, live for big days. That's what we love about being mirrors. Having said that, I've always been a modest mirror. I know there are mirrors with bigger jobs. There are mirrors on the Hubbell Space telescope, and mirrors in the Palace of Versailles – – I'm a small town mirror."
I could tell he was being careful, but the mirror continued and said, "But the one word that gives me some pause – – which as it turns out – is the one you are especially stressing is the word 'more.' To me, and I don't want to read too much into what you are saying, but to me, 'more' implies that you think tomorrow I will portray a more magnificent image than I ever have in the past. It sounds like you are expecting a greater degree of reflection and beauty."
The mirror said all of this in a very diplomatic way. He then waited for me to say that I didn't think tomorrow would be more magnificent. But I didn't deny the point. In fact I assured him that I did think tomorrow (which is now today, my little girl's wedding day) would be the mirror's best moment ever.
At this point the mirror got a little salty. He said, "Look that seems a bit presumptuous. How can you say that tomorrow will be more magnificent? You don't know my body of work. I've conceded that I am a small town mirror, but I have reflected at some big events by Midwestern standards."
I didn't back down. "Well," I said, "It's like this. First let me confirm, you were not at my wedding, August 12, 1989."
The mirror did even have to think about his answer. "No, he said, I wasn't there. I've never worked west of the Mississippi."
I said, "Well, in that case, you've never reflected a more beautiful bride."
The mirror got it then – — and he smiled – he realized he was dealing with a guy who wasn't trying to be objective. He conceded my right to be biased, "Okay, you can argue for the unsurpassed beauty of your wife and daughter."
But then the mirror's smile turned to concern. He said, "Hey, don't put too much pressure on me. I can only work with what I've been given. I haven't seen your daughter in her wedding dress yet. So how can I know if she will be pretty?"
I said, "Well, that's where the 'modest' word enters the picture. You don't have to be magnificent on your own. I assure you that my daughter will supply enough beauty for whatever room she is in. Just show up buddy. My daughter as a bride will light the place up. I know my little girl will be beautiful on her wedding day."
*          *          *          *          *
Now – – much to everyone's relief who is worried about my late night conversation with a mirror – – I'll turn to my audience here. I'm sure Alex agrees that this mirror, reflecting his bride, never had a more magnificent day. Right Alex? The mirror is looking good.
(Alex agreed!)
Allison and Alex, for the both of you, not coincidentally, I have the same four words for you two that I had for our friend here.
Mirror
Magnificent
More
Modest
A Magnificent Mirror
To begin with, any Christian should be a mirror that reflects glory back to Christ – – As our Scottish ancestors wrote, our chief end is to glorify God and enjoy Him forever. The metaphor of a mirror helps us understand what it means to glorify God. God's glory is his manifest beauty – – glory is to God as beams of light are to the sun – – so glorifying God means that we are the surfaces off which God's glory reflects. We are mirrors.[1]
The extent to which a mirror brilliantly reflects an image demonstrates its quality. A marvelous mirror shows a marvelous image without distortion. And the degree to which we show an on looking world the beauty of Christ is the degree to which we glorify Him.[2]
Usher #1's (your brother Christopher's) reading from the Psalter emphasized that when we pray today for God's blessing on your home, we have this mirroring / reflective objective in mind:
[1] May God be gracious to us and bless us
and make his face to shine upon us, Selah
[2] that your way may be known on earth,
your saving power among all nations.
[3] Let the peoples praise you, O God;
let all the peoples praise you!
[4] Let the nations be glad and sing for joy,
for you judge the peoples with equity
and guide the nations upon earth. Selah
[5] Let the peoples praise you, O God;
let all the peoples praise you!
[6] The earth has yielded its increase;
God, our God, shall bless us.
[7] God shall bless us;
let all the ends of the earth fear him! (Psalm 67 ESV)
 Think of verses 1-2 with my comments inserted:
[1] May God be gracious to us and bless us
and make his face to shine upon us, Selah
[2] that (which is to say, "for the purpose" or "to the end") your way may be known on earth,
your saving power among all nations.
 The Psalm is a prayer that asks that God's glory would shine into our lives. But the goal of the prayer is the result that God's ways would be known on earth. And today the church asks for God's blessing so that we might make a difference around the globe. So that we might, as mirrors, reflect his glory.
To say this personally to you Allison and Alex, today when we pray for God's blessing on your home, we are not simply thinking of your home in St. Louis but we are praying that as you are built into the community of a local church – – that there would be global implications. We are praying that, as the glory of God shines into your lives, that as mirrors you will reflect God's glory in ways that benefit many others.
Make your marriage a magnificent mirror that reflects the beauty of Christ and the loveliness of the gospel.
More
What I have said thus far – – that we are to glorify God by reflecting his manifest goodness — is nothing that cannot be said of all of creation. The mirror concept is not limited in its scope. All of creation is in some sense a mirror that reflects the glory of Christ. Every blade of grass reflects the beauty of the Creator.
So why would we say that your marriage should be a more magnificent mirror. The answer to that question flows out of usher #2's (your brother Benjamin's) Scripture reading. The Apostle Paul pointed out that marriage and the gospel explain one another.
[22] Wives, submit to your own husbands, as to the Lord. [23] For the husband is the head of the wife even as Christ is the head of the church, his body, and is himself its Savior. [24] Now as the church submits to Christ, so also wives should submit in everything to their husbands.
[25] Husbands, love your wives, as Christ loved the church and gave himself up for her, [26] that he might sanctify her, having cleansed her by the washing of water with the word, [27] so that he might present the church to himself in splendor, without spot or wrinkle or any such thing, that she might be holy and without blemish. [28] In the same way husbands should love their wives as their own bodies. He who loves his wife loves himself. [29] For no one ever hated his own flesh, but nourishes and cherishes it, just as Christ does the church, [30] because we are members of his body. [31] "Therefore a man shall leave his father and mother and hold fast to his wife, and the two shall become one flesh." [32] This mystery is profound, and I am saying that it refers to Christ and the church. [33] However, let each one of you love his wife as himself, and let the wife see that she respects her husband. (Ephesians 5:22-33 ESV)
So up to this point – – either of you has been mirrors that reflected the glory of Christ to the world. But now – as of today – together – you are positioned to glorify Christ even more because marriage and the gospel explain one another. Notice four ways marriage and the gospel explain one another.
First, marriage is a mirror that magnificently glorifies Christ when wives submit to their husband. Paul wrote:
 [22] Wives, submit to your own husbands, as to the Lord. [23] For the husband is the head of the wife even as Christ is the head of the church, his body, and is himself its Savior.
 Allison, as a wife, you are called to uphold and support Alex. You are to be a champion for him. You know that in our home your mother has beautifully exemplified this. She supports us and upholds me, if anything to a fault. Believe in your husband. Respect him. Love him.
Second, marriage is a mirror that more magnificently glorifies Christ when husbands love their wives as Christ loved the church.
[25] Husbands, love your wives, as Christ loved the church and gave himself up for her.
 Jesus loved us by going to the cross to take the penalty of sin upon him. He gave himself completely for his bride the church. Likewise, Alex the expectation is that you would protect your wife completely. The guy goes down for the girl. If you hear a noise in the apartment, don't say, "Hey honey, go check that out." The guy goes down.[3]
Which is to say, Alex, God would expect, that you would step in front of a truck to save Allison's life, tragic as that would be. But really getting hit by a truck is the easy part. Dying (at least by way of getting ran over by a truck) happens all at once. The more difficult thing is when you are tired at the end of a long day and the dog (by the way, I would encourage you to hold off on getting a dog for a little while) –when the dog wants to go out and you need to be a servant leader and you have to get up and let the dog out. That's when servant leadership really kicks in. And in those moments you show Christ-like love, however, ordinary, and reflect the glory of Christ.
Third, marriage is a mirror that more magnificently glorifies Christ because when a husband and wife become one flesh they picture the solidarity of God's people with their Savior. How is it that what a Savior accomplished millennia ago outside Jerusalem has significance for today? The answer is that we are united with Christ. We are "bound together" with Jesus. Likewise, you are to be bound together. The intimacy with which you hold one another pictures the intimacy of Christ and his bride the church.[4]
Fourth, marriage — with its exclusive commitment — mirrors the love of Christ for his church. Your foundational relationship is Christ and his church. But after this – – your central relationship is to one another. For this reason, a man will leave his father and mother . . . You belong to one another. Likewise, Christ is not a universal Savior. The danger we run in a wedding like this – – is that we play some church music and read some biblical thoughts – – and imply that the benefits of Christ are universally bestowed. But this is not what the Bible says. Rather, "Yet to all who received him, to those who believed in His name, he gave the right to become children of God (John 1:12)."
Modest
Allison, you might be inclined to respond, "Oh you are my father. You have an over-inflated opinion." And Alex may feel like – – "Oh what am I getting myself into."
Admittedly, I am biased about the two of you, but remember the word "modest." My confidence regarding this challenge to be more magnificent mirrors is not because of you. After all, you are modest mirrors. My confidence is because the source of the glory – Christ, our King – – is the brightest possible light. We have a beautiful Savior. We don't have to worry about him being beautiful. Just show up as mirrors and our King, and his bride, will shine in ways that don't just fill a church building on a wedding day – – his glory will shine forth and fill the entire universe.
************
[1] S. Aalen, "Glory," in The New International Dictionary of New Testament Theology, ed. Colin Brown (Grand Rapids: Zondervan, 1986), 44–48; Chris Brauns, "How Would You Define 'Glory'?," A Brick in the Valley: The Web Site of Pastor and Author Chris Brauns, accessed November 6, 2014, http://chrisbrauns.com/2011/04/how-would-you-define-glory/; Chris Brauns, "Notes on Glory for Romans Study," A Brick in the Valley: The Web Site of Pastor and Author Chris Brauns, accessed November 6, 2014, http://chrisbrauns.com/2009/09/notes-on-glory-for-romans-study/.
[2] In addition to noticing what a marvelous mirror is, we could also notice two things a mirror is not. (1) A mirror is not a source. Mirrors don't supply light on their own. So a marvelous mirror cannot produce a beautiful image. (2) Mirrors are not sinks. They are not to be black holes that suck up the light and internalize them.
[3] Matt Chandler, "A Beautiful Design: Man's Purpose" (The Village Church, Dallas, September 21, 2014), 3, http://www.thevillagechurch.net/resources/sermons/detail/mans-purpose/. Chandler shares that Dr. Randy Stinson, "Has taught all his little boys concerning his daughters and women in general, 'The boy goes down. The girl goes free.'
[4] Chris Brauns, Bound Together: How We Are Tied to Others in Good and Bad Choices (Grand Rapids: Zondervan, 2013).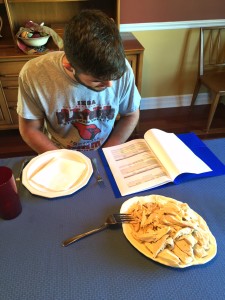 One day my wife is leaving detailed instructions about when to feed our baby girl. The next day my baby girl is handing out wedding instructions.Sunrise, Sunset.

Last night my daughter, Allison / Allie, who is scheduled to be married on Saturday, published a detailed explanation of the schedule for the week. She personalized each copy of the wedding instructions with a particular person's responsibilities highlighted in his or her respective copy. Marching orders for the Brauns men feature more detail than field instructions for the battle of Antietam.
Allison's brother, Christopher (He answers to Usher #1 this week) went to work at 5:00 AM. Hence, he did not receive his orders until dinner time at which time he was expected to absorb the information between bites.
Allison doubtless quizzed Christopher before work this morning. She has been getting up with him at 4:15 A.M. to enhance her productivity.
Back to dinner for a moment – – the Brauns men are all losing weight – – not just because we are reading the wedding instructions over dinner, still less because we have targeted weight loss (Tuxedos have built in elastic after all!)- – but because we are eating at the same table as everyone else. Jack Sprat ate more fat.
But I digress.
Some have suggested that Allie, in dispensing schedules, is following my example. And while there may have been a time or two when I seemed a bit goal oriented in life, I would point out that the women in our house have always been the ones pounding out the cadence.
To document my point, I am providing the below letter that I wrote to Allison on November 3, 1994. Notice the letter includes a detailed schedule Jamie gave me so that I would know my responsibilities.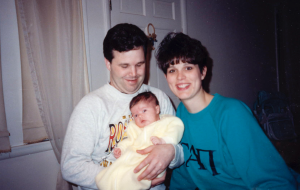 November 3, 1994
Dear Allison,
I haven't written anything down for some time. Sorry. Mommie is off at some pastors' wives' retreat and you and I are alone for the first time. You have decided that you don't want any kind of bottle so I only fed you cereal. It will be interesting to see if you sleep through the night.
You really know me now. One of our (you and I) favorite things is for you to cough….I then give a fake cough back and we start doing it back and forth. Intellectually it probably isn't one of my more stimulating conversations. But, it is one I would rather have than practically any other in the whole world.
I continue to be amazed at your relationship with your mother. You know each other so well. She has this little schedule that she follows religiously with you. She even typed instructions up for me on the computer. They are enclosed in the box below just the way she left them.
ALLISON'S SCHEDULE
| | |
| --- | --- |
| 7:30 – 8:30 | She will wake up for the day.Feed her a bottle of breast milkAbout 1/2 hour later you can feed her a 1/2 bowl of rice cereal made with a little pear juice and the rest water. The consistency would need to be somewhat like mashed potatoes. |
| 10:30 | If she starts to get a little fussy she may be ready for her morning nap depending on how early she woke. Lay her in her bed with a pacifier in her mouth and the rest at the top left corner of her bed and give her a burpy. Turn her tape on the right over and turn it on. The volume is set you do not need to mess with that. (I would advise only letting her sleep for an hour then she will take a good afternoon nap) |
| 11:30-12:00 | Feed her a banana. You will need to put it in a bowl and mash it with a fork. She will eat the entire thing. If she still acts hungry give her some applesauce, which is in the refrigerator. After she has had that then give her another bottle of breast milk. She will not drink much. |
| 1:30 | Lay her down for her afternoon nap. Do the same as you did for the morning nap. |
| 4:30-5:00 | Give her a breast milk bottle. |
| 6:00-6:30 | Give her two ice cubes of anything that is in the freezer. Put them in a bowl and microwave it for 1 minute. Give her 3/4 bowl of rice cereal made with a little pear juice and the rest water. The consistency would need to be somewhat like mashed potatoes. |
Really, though, the logistics of things are not what amazes me. Rather, it is how comfortable you are when she holds you, how she knows just how to handle you when she changes your clothes, how excited you are to see her.
By the way, you get so excited these days. You wave your arms and bounce when you see Mommie or me. Sunday I was preaching in Algona (they had a kind of homecoming thing) and you looked up and saw me sitting on the platform and got all excited. That meant so much, I almost got a little misty on the spot.
It may be fair to say that your favorite thing in the whole world is to pull my hair. You love to do that. Every time you pull it, you start laughing and get all excited. Of course, I love it. As long as I have hair Allison, you can pull it.
Allison, without question you are our greatest joy, without question. For that, will you put up with our weirdness and still come and see us even when you don't need us? We certainly hope so.
Your Dad who loves you immensely.
P.S. We are getting a new sofa and chair. The green and blue Rowe thing that you probably will think is incredibly old when you read this. Well, we agonized over the decision and now Mommie flying high. She will be so excited when it comes next Tuesday.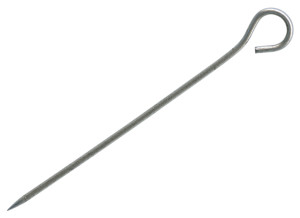 Don't miss the links at the bottom of the page. There are resources available.
Jesus's teaching on lust sets the standard. Sins of the mind are wrong. He stressed the stakes. Lust is eternally deadly. And Christ gave us a strategy: take radical action.
[27] "You have heard that it was said, 'You shall not commit adultery.' [28] But I say to you that everyone who looks at a woman with lustful intent has already committed adultery with her in his heart. [29] If your right eye causes you to sin, tear it out and throw it away. For it is better that you lose one of your members than that your whole body be thrown into hell. [30] And if your right hand causes you to sin, cut it off and throw it away. For it is better that you lose one of your members than that your whole body go into hell. Matthew 5:27-30
What does it look like to take radical action? How do we figuratively gouge out our eyes and amputate our hands? Below are 10 Policies for parents to implement to protect their families. These are not all radical in nature. Some of them take place over time. But be ready to act decisively if necessary.
Be involved in a Christ-centered, Bible preaching local church. The only way we can counter the corrosive effects of a fallen world is through Christian community. You need to feed on the proclaimed Word, share life with other believers, worship Christ in community, and pray with others. If you are struggling in this area, make yourself accountable to a mature Christian very soon.
Promote a positive vision for marriage and God's plan for intimacy. Envision Christ-centered weddings.
Make love — husbands and wives — a priority. Spouses belong to one another (1 Cor 7:1-5).
Establish and maintain modesty standards within your family.
Establish family policies early. Second grade is easier than sixth for setting boundaries. Still, it is never too late.
Minimize screen time in general. Check the progression that accustoms families to always being in front of a screen. Hate addiction to video games and be scared of them in the first place. If the only way you can get work done is to occupy your children with a video, or, if you always use videos to keep children from being a distraction when you entertain, that is a problem! (Though, exceptions can be made for the sake of #3.
Keep Internet access away from private contexts: especially bedrooms and basements. Sin loves darkness.
Implement steps from Pastor Tim Michalek's Top 5 Free Ways to Protect Against Internet Pornography.
Question if teens really need Internet enabled phones.
Avoid split second decisions about purchasing Internet enabled devices. Heed Tim Challies appeal. "Please don't give them porn for Christmas."
Online resources for battling pornography:
The Porn Free Family Plan (Tim Challies)
The Top 5 Free Ways to Protect Against Internet Pornography (Tim Michalek)
For help implementing a family policy, and for saying no to Internet enabled devices, see Parents Memorize This Speech (Chris Brauns)
Please Don't Give Them Porn for Christmas (Tim Challies)
Parenting in a Hyper-Sexualized Culture (Heath Lambert)
The Most Insidious Drug (Chris Brauns)
What's at Stake with Internet Pornography (Russell Moore)
Is Pornography the New Tobacco (Mary Eberstadt)
Pornography: The New Normal (Carl Trueman)
Pornography: The New Narcotic (John Piper)
Hijacking Back Your Brain from Porn (John Piper)
Porn, Pride, and Praise (Heath Lambert)
Children Playing Outside Requires Leadership. Here's Three Suggestions (Chris Brauns)
Russell Moore: Fake Love, Fake War and the Dangers of Pornography and the Internet
Pornification: Just the Facts (Ed Stetzer)
A Study on the Effects of Pornography
Recommended Reading:
Finally Free: Fighting for Purity with the Power of Grace (Heath Lambert)
Counsel to Men Addicted to Pornography (Ed Welch)
Pornified: How Pornography is Damaging Our Live, Our Relationships, and Our Families (Pamela Paul)
When I Don't Desire God: How to Fight for Joy (John Piper)
Wired for Intimacy. How Pornography Hijacks the Male Brain (William Struthers)
Sexual Detox (an e-book by Tim Challies)
Recommended Videos:
I Am Struggling With Pornography and Need Help. What's My First Step (Heath Lambert)
What Should I Do When My Husband is Looking at Pornography (Heath Lambert)
You Can Say No to Porn (John Piper)
The Key to Escaping Porn (John Piper)
I am really enjoying God Dwells Among Us: Expanding Eden to the Ends of the Earth
Here's a sample quote in which they reflect on what it means to glorify God:
What does it mean to glorify God? The Westminster Catechism reminds us that "The chief end of man is to glorify God and enjoy him forever." If we are created to glorify God, then we should know what that means. We glorify God by multiplying images of him who are crowned with his glory; we glorify God by making disciples. Jesus himself glorified God in this way. Near the end of his life, he declared:

I glorified you on earth, having accomplished the work that you gave me to do . . . I have manifested your name to the people whom you gave me out of the world. Yours they were, and you gave them to me, and they have kept your word. (Jn 17:4, 6).

Jesus glorified God by making disciples who kept God's word. The mark of these disciples was obedience. Similarly, we glorify God by our mission in making disciples who keep God's word.
(Page 35)
See also:
Towards Understanding More About the Glory of God
Notes for "glory" on Romans Study