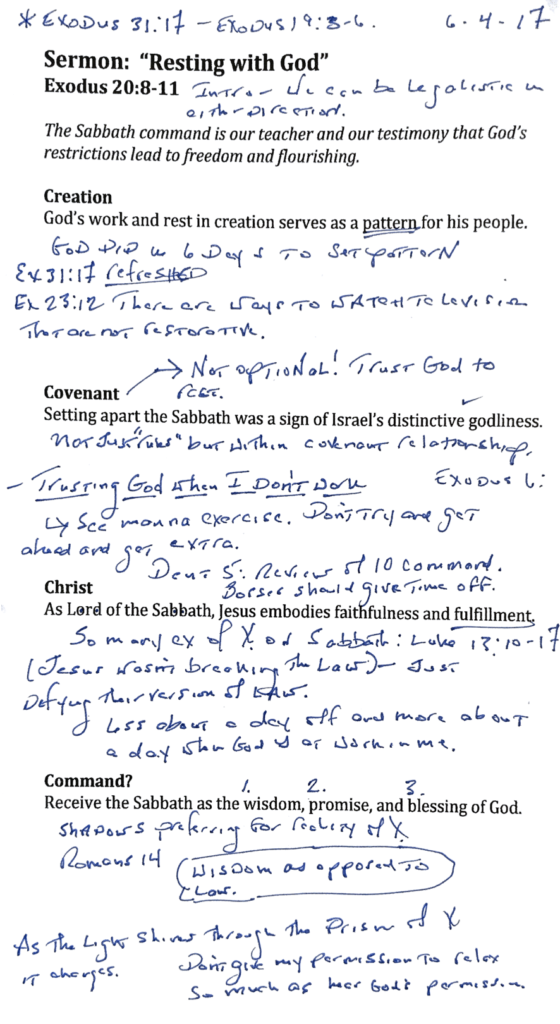 Sunday (6/4/17) Jamie and I were blessed by a sermon from Pastor Bruce McKanna on Sabbath rest. Bruce gave this beautiful challenge: "Don't give yourself permission to rest so much as hear God's permission."

The first Sunday of my sabbatical, I preached in the GSOI. June 4th was my first opportunity to sit in the pew. We attended Evangelical Free Church of Mt. Morris and In God's conspicuous providence, we heard a sermon on Sabbath rest.
The entire sermon was excellent but the point I continue to reflect on is the reminder that God's work and rest in creation serves as a pattern for his people.
In response to the sermon, I am memorizing Exodus 31:17:
It is a sign forever between me and the people of Israel that in six days the Lord made heaven and earth, and on the seventh day he rested and was refreshed.
The pattern of work and rest is rooted in creation. Work followed by rest is a rhythm that should be part of all our lives.