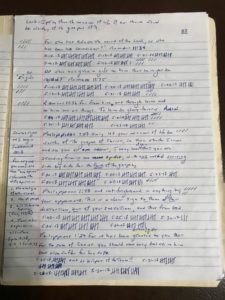 I'm thankful for the opportunity to recharge!
A week into my sabbatical and here is some of how I'm working at recharging:
Memorizing and meditating on Romans 11:33-36. I can't believe I haven't previously memorized.
Lots of Scripture review and meditation.
Listened to Paul Tripp's address: Parenting is Gospel Ministry. It's excellent!
Reading in Orwell's 1984, Churchill and Orwell: The Fight for Freedom, Churchill's Ministry of Ungentlemanly Warfare: The Mavericks Who Plotted Hitler's Defeat.
Gave a sermon at a family reunion.
Lots of walking at the Byron Forest Preserve — developing a friendship with the deer!
Listened to a sermon by Tim Keller on the incarnation. Also excellent!
Travelled to the GSOI (Great state of Iowa) where the children were thrilled to see me.
Preparing for a graveside service for someone connected to our church family.
I've prayed that our flock will be blessed this summer — especially by Pastor Tim Michalek's preaching in Philippians.