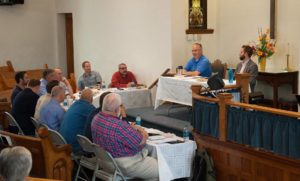 As one of your pastors at The Red Brick Church, I would encourage you to make every effort to be at the 4:00 PM Ordination Service (8/7/16) for Timothy Michalek. Doubtless there are more ways we could motivate ourselves to participate in the ordination service. But these are the top nine reasons I identified that we should be sure to come ready to pray, sing, and celebrate.
To participate in the decision making process of our church. We are in autonomous local church that is congregational in its government. Hence, the participation of membership is the final step in setting apart Tim for gospel ministry (Acts 13:1-3).
To love on the Michaleks and communicate to God that we are thankful for their hard work and to communicate gratitude to God for them (John 13:34-35).
To recognize that it is in your own spiritual interest to care for those "oxen" who grind out the grain for your spiritual bread. Scripture is clear that some are gifted to equip you and that apart from their provision and your regular interaction with them, we are bound to be tossed to and fro by every gust of wrong thinking. The necessity of spiritual leadership is far more significant for our families than any presidential election (1 Timothy 5:17-22)
To encourage one another: your presence not only lifts the spirits of the pastors but stirs one another up to love and good works. Your greeting of someone may encourage them more than you will ever know (Hebrews 10:24-25).
To represent our church in a positive light to brothers and sisters from other local churches so that they are encouraged that the Spirit is at work in our midst and that we see their local churches are partners (Philemon 7).
To learn – – many of you have not seen an ordination service before and you will grow in your knowledge about the Bride of Christ by your participation even as you are fed the Word. Whether you have been around an ordination event or not, all of us should grow deeper in our knowledge of the faith through our interaction in this service that includes leaders from other churches (Acts 13:1—3, Titus 1:5-9, 1 Timothy 5:17-22).
To reach our country and world. The gospel of Jesus Christ is the only hope of the world and with this service we must picture what we pray will happen over and over again – – that we will see godly men raised up to lead the church of the Lord Jesus Christ (Acts 1:6-8).
To recognize our responsibilities as an ordaining church and to prayerfully commit to the Lord that we support Timothy Michalek as a pastor/elder and that even as we keep him accountable (1 Timothy 5:17-22).
To experience and see our great God glorified in a special way in the life of the church. When we talk about glory, we reference the "manifest beauty of God." God's glory is to the Triune God what light is to the sun: it emanates from his being. The Bible promises, that God shows his glory in a special way in and through the community of his people. At these times, when we are particularly focused on our identity as a Christ-centered, Word believing, conservative church – – we can expect God's glory in special ways. We have already experienced the goodness of God this week. He was glorified in the council.  And so when you come in tonight and hear people singing, and see the laying on of hands, you will more deeply appreciate that our local church is a prism through which the beauty of Christ is reflected in ways that we could never conceive part from the local church (Eph 3:10, 1 Peter 2:9-12).