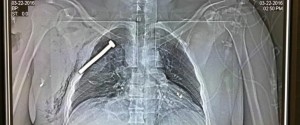 I wrote a guest post for Grand Rapids Theological Seminary regarding the Christian response to terrorism.
*****
The reluctance of Christians to soberly consider the biblical doctrine of God's wrath leaves us vulnerable to bitterness.
 It was the picture of an x-ray that punched me in the stomach. My wife got emotional when she heard the sound of a baby crying. But for me, watching the nightly news, it was the image of a bolt embedded in the chest of one of the victims of the Belgium terrorist attacks that made me mad.
 There is such a thing as righteous anger. But I was somewhere beyond righteous. Looking at the x-ray of shrapnel that had viciously ripped its way into someone's chest, I did not feel constrained by the love of Christ.
Read the rest here.