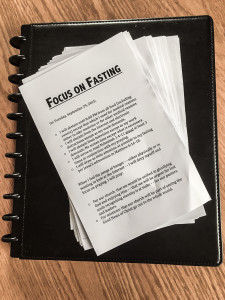 One of the ways God's people should respond to grave injustice in the world is to fast and pray for the gospel message to go out to all nations. A number of our flock responded to my sermon on Matthew 6:16-18 and a challenge to focus on fasting. You can listen to the sermon here.
The black notebook to the right is the binder I use for some of my prayer notes for our church family. This week, I have crammed into it many response sheets from those who want prayer and/or are committing to fasting and praying on Tuesday. This was in response to the sermon on 9/27/15.
The logic of my sermon developed as follows:
I asked our people if a captain in the United States army was justified in "beating up: an Afghan leader (one who the United States helped put in place) who sexually abused a young boy he had chained to his bed. (See U.S. Soldiers told to Ignore Sexual Abuse of Boys by Afghan Allies).

We defined fasting (per Lloyd-Jones) as voluntarily giving up a legitimate activity for the purpose of prayer and spiritual focus. Food is one obvious example but we might also choose to fast from media, screens, entertainment etc. The possibility of rewards and God answering our prayers should encourage us to do so.
We reviewed Jesus's warnings about fasting. Don't fast to look spiritual in front of people. Be careful not to do acts of righteousness with the applause of people in view (Matthew 6:1). Further, do not approach fasting as a "work" to earn or merit something from God.
We reviewed examples of biblical occasions of fasting (2 Chronicles 20:3, Ezra 8:21-23, Nehemiah 1:4, Acts 13:2-3, Acts 14:21-24. We concluded with Calvin that, ""Wherever men are to pray to God concerning any great matter it would be expedient to appoint fasting along with prayer."
We then returned to the original question. How should we respond to the sexual abuse in Afghanistan? It isn't really for us to know precisely what should have been done in that situation. What is far more important than whether or not we would hit an Afghan leader as a soldier is to consider if we are so concerned about the cause of missions in the world that we fast and pray for the gospel to go out? We should consider which  we believe would help more: (a) Punching someone (b) Proclaiming the gospel?
Bearing in mind that our heavenly Father who hears in secret will reward those who pray in secret (Matthew 6:18), we were challenged to consider making a specific commitment to fast.
I asked people to consider fasting during the daylight on Tuesday. I also encouraged our people to let our pastors know if they are fasting and praying and to share their prayer requests. Many responded.
Now let's follow through. Let's be praying people who cry out to God for justice.
See also:
John Piper's recommended study: A Hunger for God: Desiring God through Fasting and Prayer
Scripture Passages to Help You Pray