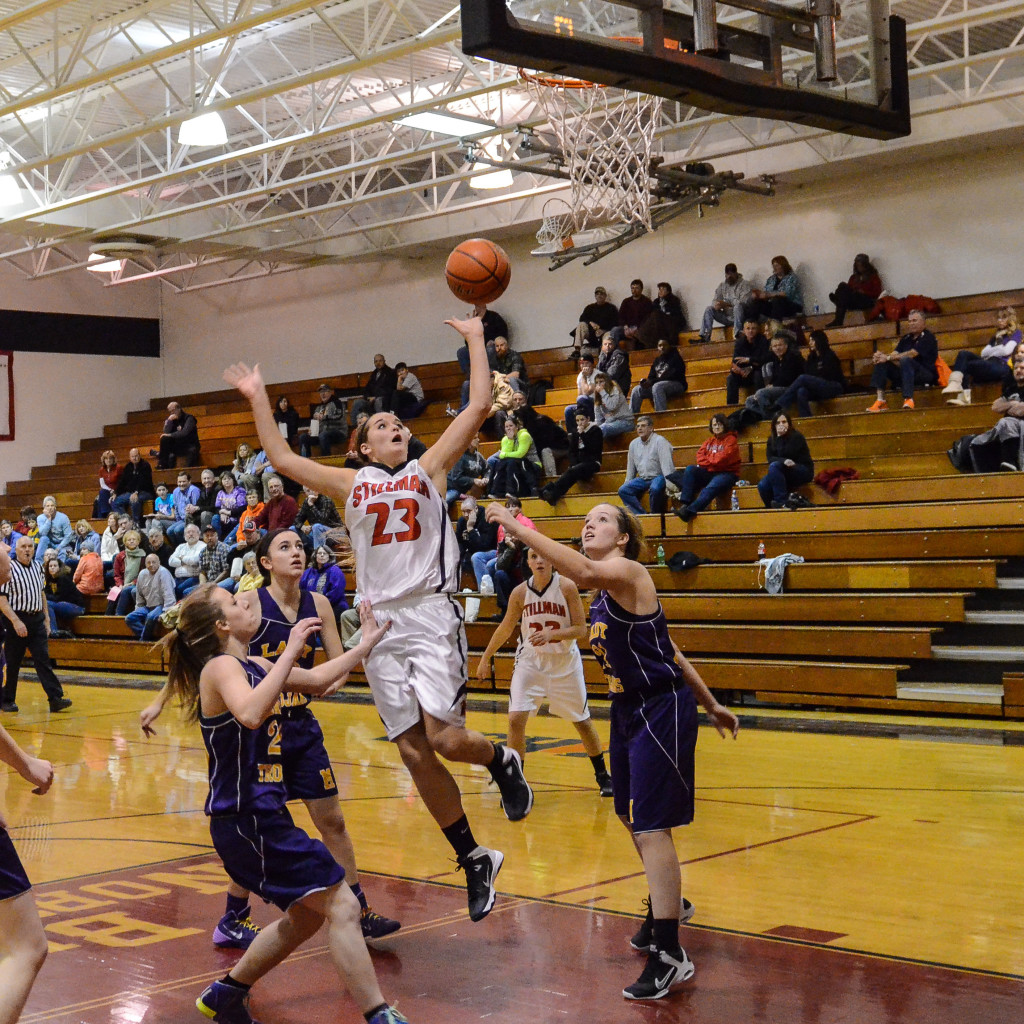 As we mourn the loss of one of the young people in our community, and the loss of a man from s surrounding community, tomorrow at the Red Brick Church (9/6/15 at 9:00 AM), Pastor Chris Brauns will preach on Revelation 21-22 and the image of a New Heaven coming down from Heaven as a bride adorned for her husband.
The picture of Emily going to the basket – – the ball went in for the record – – made me smile at the time.
The picture of Emily scoring means so much more now.
I take pictures of young people because I love them and so does our community. And we need them. Images of young people are good for our souls. Seeing their smiles full of future potential motivates us in the present.
At times of great loss we are reminded that there is another category of images we need even more than photographs. We need the beautiful, true, and hopeful images painted by the power of the Holy Spirit in the words of the Bible. These images from God show us how we can be hopeful even at our times of greatest loss.
There is, perhaps, no more beautiful and hopeful picture for times of loss than the picture painted by Revelation 21-22. Read this – – perhaps aloud – – and pray that God will help you see it.
Then I saw a new heaven and a new earth, for the first heaven and the first earth had passed away, and the sea was no more. 2 And I saw the holy city, new Jerusalem, coming down out of heaven from God, prepared as a bride adorned for her husband. 3 And I heard a loud voice from the throne saying, "Behold, the dwelling place of God is with man. He will dwell with them, and they will be his people,2 and God himself will be with them as their God.[4] He will wipe away every tear from their eyes, and death shall be no more, neither shall there be mourning, nor crying, nor pain anymore, for the former things have passed away."
[5] And he who was seated on the throne said, "Behold, I am making all things new." Also he said, "Write this down, for these words are trustworthy and true." [6] And he said to me, "It is done! I am the Alpha and the Omega, the beginning and the end. To the thirsty I will give from the spring of the water of life without payment. [7] The one who conquers will have this heritage, and I will be his God and he will be my son. Revelation 21:4-7 ESV)
Not only do we need to read these words individually, we need to reflect on them together. Tomorrow in our morning service at the Red Brick Church, we will picture this in our mind. And because it is the Word of Christ we can be confident that, if we receive it prayerfully, these images will be living water for our souls.
If you don't have a church home, then come. Be our guest. Drink deeply from the certain truth that this image will be a reality: the heavenly city will come down from heaven as a bride adorned for her husband. Picture it.
See also: