In his highly recommended biography of C.S. Lewis, The Narnian: The Life and Imagination of C. S. Lewis
, Alan Jacobs reflects on the change in Lewis's life after he became a Christian. Jacobs says that in Lewis's older writings he doesn't sound like himself:
I first read a book by C.S. Lewis twenty-five years ago, and I have been reading his work consistently since then. I know his writerly voice quite well, as well as I know anyone's; it is utterly distinctive. And the most dominant feeling I get when I read his early letters–that is, those written in his first thirty years of life – – is that in none of them does he sound like himself. The pre-conversion Lewis is, though obviously  highly intelligent, neither a particularly likable nor a particularly interesting person — at least in his letters.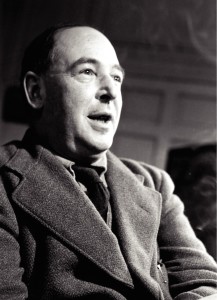 He may have been delightful to know, though I doubt it. But once he "admitted that God was God," it is as though the key to his own hidden and locked-away personality was given to him. What appears almost immediately is a kind of gusto-(sheer, bold enthusiasm for what he loves) that is characteristic of him ever after (page 131).
See also:
C.S. Lewis: The Problem Isn't That We Want Too Much, We Want Too Little
C.S. Lewis: We Make Men Without Chests and Expect of Them Virtue
Keller and Piper Talk C.S. Lewis
C.S. Lewis and One of His Last Hurdles to Belief
C.S. Lewis: The Possibility of Short Term Defeat Makes the Adventure

C.S. Lewis: Christianity is Not the Sort of Thing Anyone Would Have Made Up

Puddleglum's Lesson
C.S. Lewis: Literature Enlarges Our Being
Make No Mistake: God is Not in the Dock

C.S. Lewis on Chivalry