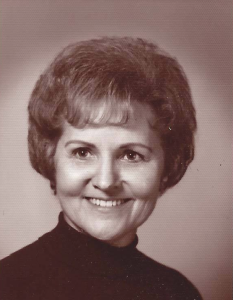 For those who knew Dr. Paul and Vivian Beals, it is easy to understand why Jesus said that Christians are the salt of the earth (Matthew 5:13). Dr. and Mrs. Beals encouraged seminary students and their spouses for decades – – not only by teaching missiology but also through their warm example as a couple.
I learned today that Mrs. Beals is now in the presence of our King. In addition to remembering the Beals, this is again an occasion for me to be thankful for the opportunity I had to study at Grand Rapids Theological Seminary.
Mrs. Beals was a lovely lady in every way. She had such a sweet smile. And we always knew that she was a partner in our education.
The Beals were missionaries for twelve years in the Central African Republic but I knew them through Dr. Beals' role at the seminary.
One memory floats to the surface. Dr. Beals and Dr. Crawford (see my first seminary grade) usually arrived at the seminary early in the morning. They drove identical maroon Dodge-K cars and parked next to each other. I could see the parking lot from married student housing so it was easy to monitor their arrival time. Somehow the maroon K-cars may have been connected to the fact that both the Beals and Crawfords went to a church with vast quantities of purple. But I'm not sure of the connection. For the record, Dr. Turner's car was/is cooler. He drove a Saab and arrived later. I have no idea what Dr. Hoch drove: something to haul books in. He also arrived later – – generally in a foul mood unless the synagogue was having its annual garage sale when he was giddy about the deals.
I digress. I had Dr. Beals for an early class with only guys in it. There weren't a lot of sisters in the seminary at that time. As we got to class, Dr. Beals was handing missions handouts generated with an early Apple computer and a dot matrix printer. I need to fact check this, but I think the Beals started using a Mac before Steve Jobs. Anyway, in the midst of distributing the handouts Dr. Beals stopped and said with tears in his eyes, "Men, I need to tell you that my wife got up early today and typed these handouts for me." He then collected himself and prayed and lectured.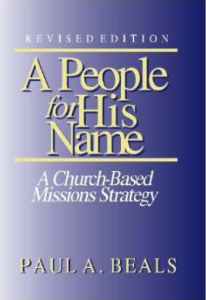 We never learned the details of the back story, but apparently, Dr. Beals had been behind in his preparation so Mrs. Beals got up early to bail him out. I can't imagine how early. Dr. Beals felt bad about how early she had to get up and it was a matter of honor to tell us about that she had done the work. I have no idea what the handouts were about. I would have to look at my notes to even see what class it was. But Dr. Beals talking so appreciatively about his wife made an impression.
On another occasion, we aspiring pastors had to plan a missions conference. I spent a great deal of time planning the conference paying careful attention to the theology and ministry plan behind each part of the program. Dr. Beals looked it over and pointed out that I had planned multiple meals and that it was not very sensitive to the women in the church. I got the impression that Mrs. Beals had given Dr. Beals some wisdom along the way about expectations for cooking and missions conferences.
The Beals smiled a lot. I remember that.
Such ordinary stories. So goes salt.
I post about the Beals now in the same spirit that Dr. Beals mentioned his wife getting up early. It's a matter of honor.
Dr. and Mrs. Beals went through many health struggles in their final years and I am thankful that long stretch of road is now over. I can't wait to see them on the other side. I hope they'll swing by our family meeting place at the 5th Tree on the right side of the river. If not, I'll look them up. We'll all be there together: A People for His Name.
****************
From an earlier post
One of my seminary professors, Dr. Paul Beals, was ushered into the presence of Christ on Tuesday, May 29. (See here). I am eternally thankful for the opportunity I had to study under men like Dr. Beals, Dr. Crawford, and Dr. Hoch, all of whom are now in the presence of Christ. Dr. Beals lived out the admonition of 2 Timothy 2:1-2 to entrust the Gospel to reliable men and women who will do the same.

I have often been asked how Jamie and I made the decision to leave the corporate world and go to seminary. I can never answer that question in a tidy way. It certainly was not that I didn't enjoy my job and the people with whom I worked. But by the time we left for Grand Rapids Theological Seminary in 1990 we were confident in every regard that God was in the decision.
Professors like Dr. Paul Beals quickly removed any remaining questions we might have had about the decision. Dr. and Mrs. Beal received us into the seminary family with open arms. I did not have Dr. Beals for any classes my first semester or two in seminary, but he made sure to meet as many of us as possible. And when I visited Dr. Beals's church, both Dr. and Mrs. Beals went out of their way to greet Jamie and me. They made us feel at home and Dr. Beals was thrilled that I was from Iowa.
I had Theology of Local Church Missions with Dr. Beals in 1991 and I looked through my class notes this morning. It is amazing to reflect on how much of my approach to missions was shaped by Dr. Beals. His goal was to equip and prepare us to be deeply missions minded whether we were called into missions or served in pastoral ministry. As I pointed out in another post, he taught us that the Bible is a missionary book from cover to cover.
What also struck me as I looked through my material from Theology of Local Missions was all the personal attention Dr. Beals gave to students. Throughout my class material I saw small notes Dr. Beals had written:
"Thanks, Chris, for a thoughtful and thoroughgoing piece of work."
Or,
"Thanks, Chris for following instructions with understanding."
Of course, it wasn't all good news. One personal note on a blue book exam read,
"Review this one, Chris, it needs a lot of strengthening."
I wonder how many notes Dr. Beals wrote to students across the decades.
Dr. Beals stayed amazingly fresh in the classroom. He encouraged us to read books that only recently been published. He interacted with a wide range of books.
Dr. Beals work ethic and understanding of missiology were tremendous. But maybe what I remember the most was his sweet, humble enthusiasm. He would come to class excited to teach us. If Mrs. Beals had typed something for us to use in class, as a matter of honor he would say, "I need to acknowledge that my wife was the one who worked hard on this handout." Whenever he saw my wife, Jamie, Dr. Beals would go out of his way to be sweet to her and encourage her and other seminary wives.
Dr. Beals was always so proud of his family. While he never would have talked to us about his accomplishments, he enjoyed telling us about his children's accomplishments. Years later, Tim Beals became my agent. I am nearing the completion of the third book I have written with him as my agent, yet I hardly ever talk to him without thinking about his folks.
Since seminary, I have had the opportunity to be involved in many, many missions projects. By God's grace, Dr. Beals influenced every single one of them. My heartfelt condolences go out to Mrs. Beals and the entire family. I praise the Lord for the gift of his servent, Dr. Paul Beals.
You can read more about Dr. Beals including what he was most proud of at http://www.funeralquestions.com/obits/pederson/memorial.asp?listing_id=184530