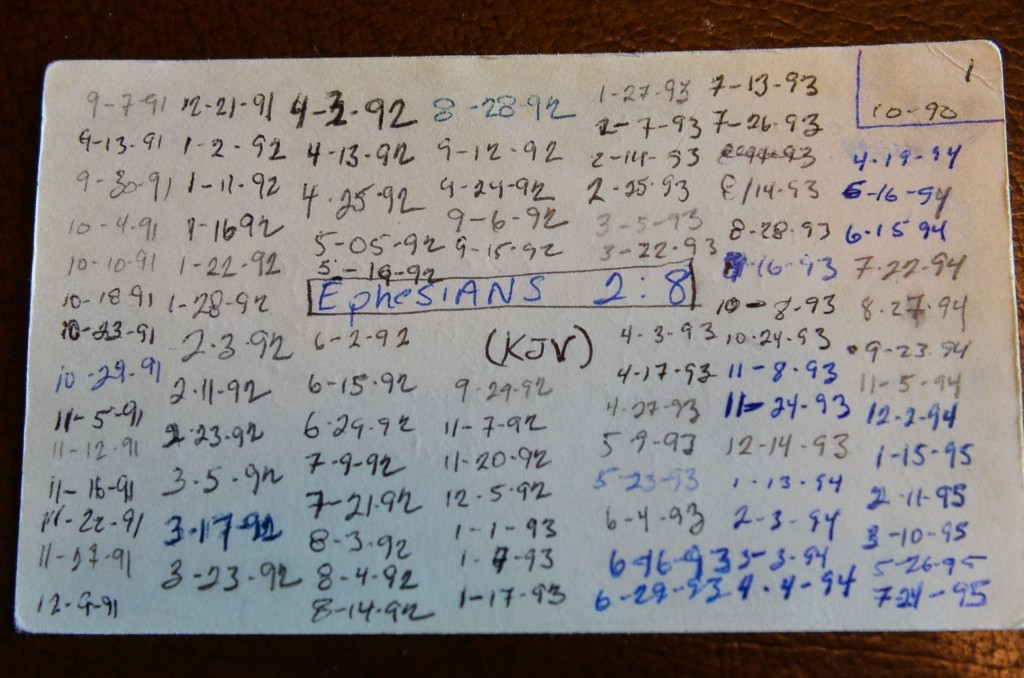 Which verse of Scripture do you think should be memorized first? Do you agree with my choice? Tell me in the comments.
Memorizing Scripture is one of the most beneficial practices you can ever adopt – – watch the below video from John Piper and you will hear a powerful argument for doing so. But which Bible verse should be memorized first?
Of course, there is no one answer. But the first verse you memorize should probably be a gospel summary verse. We should begin with the good news of how we can know God. (See what do Christians mean when they reference the Gospel or Good News).
I started my system of Scripture memory over 23 years ago. The first verse in my system is Ephesians 2:8 from the KJV. Every time I work through another round of reviewing my verses, I write the date on the card. I have long since moved to writing dates on the back of this card. But it is fun to see all the times I reviewed and meditated on Ephesians 2:8 since October of 1990.
Consider Ephesians 2:8-9:
For by grace are ye saved through faith. And that not of yourselves. It is the gift of God. Not of works, lest any man should boast.
If you sink this verse into your soul, you will be unsinkable. I quote that verse to myself often when I preach the gospel to myself (see this post on preaching the gospel to ourselves).
Someone has said, grace is:
God's
Riches
at
Christ's
Expense"
Like any gift, the gift of salvation is a package that must be opened. We open the gift of salvation by faith – – by deciding to receive the gift of eternal life.
Salvation is "not of works, lest any man should boast." God is the one who does the saving. If we did anything, we would brag about it like an NFL defensive back after making a big play.
I could think of some other choices of verses to memorize first – – but let me hear from you?
And why not write your verse on a card and say it over and over again?
See also Choosing Verses to Memorize