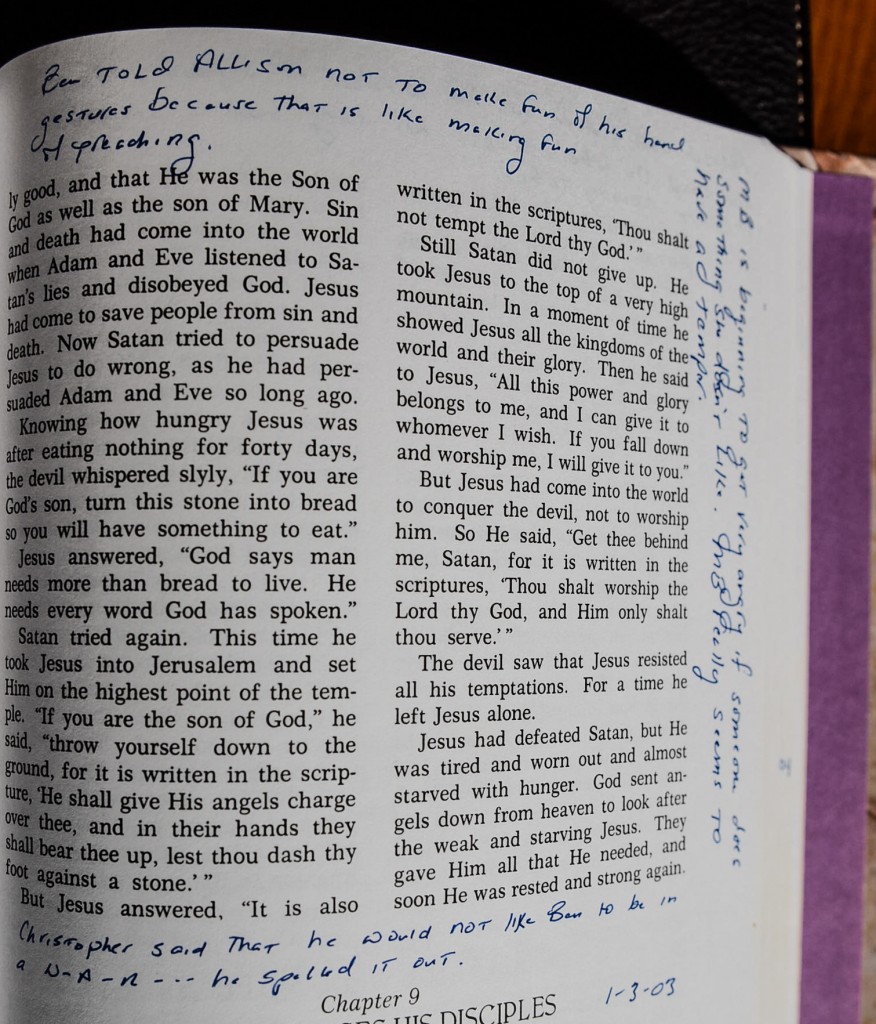 Families need to be spend time in God's Word together. I shared this letter  – – including the picture to the right – – with our young parents on Baby Dedication Day. If you enlarge the picture, you will be able to see what was on the minds of our children the night we read about the temptation of Jesus. At the time, their ages were Allison (8),  Chris (6), Ben (5), and Mary Beth (a few weeks).
If you can't read my writing – – the notes read as follows:
"Ben (age 5) told Allison (age 8) not to make fun of his hand gestures because that is like making fun of preaching."
"MB (a few weeks) is beginning to get very angry if someone does something she doesn't like. MB really seems to have a temper."
Christopher (age 6) said that he would not like Ben to be in a W-A-R – he spelled it out.
December 8, 2013
Dear Parents:
We are so thankful that you are dedicating your child to the LORD at the Red Brick Church. Raising our children to follow Christ is one of our greatest responsibilities. And it is so appropriate to put a stake in the ground and ask for the church's prayer and encouragement as you do so.
Having said that, in my mind, Deut 6:4-9 is the first passage for parenting. This Scripture reminds us that dedicating a child to the LORD is not something we do in a day. Rather, day after day, we are to talk about the truth of God's Word when we sit at home, when we walk along the road, when we lie down, and when we get up. Our prayer is that gospel teaching will be woven into the warp and woof of your lives.
Of course, dedicating your child to the LORD according to Deut 6:4-9 requires that your home is a place where the Word of God is read. We are giving you a Bible storybook with the prayer that your children will hear you tell (true) stories and read passages from the Bible as long as your child is entrusted to you. If you would spend 5-10 minutes doing this at meal or bedtime, God will use it in tremendous ways.
One thing we did with our family when they were young was to keep a sort of running journal in the margins of our Bible storybook. This was a concrete way of preserving some memories and also of tracking our progress as a family. It only took us a moment or two – I included a sample page for you to see.
Most of all, we pray that you and your family will believe in the LORD Jesus Christ for salvation. Christ is the only way and he is a Treasure beyond what we could ever ask or imagine (John 1:12).
Love in Christ,
Pastor Chris Brauns
Deut 6:4-9