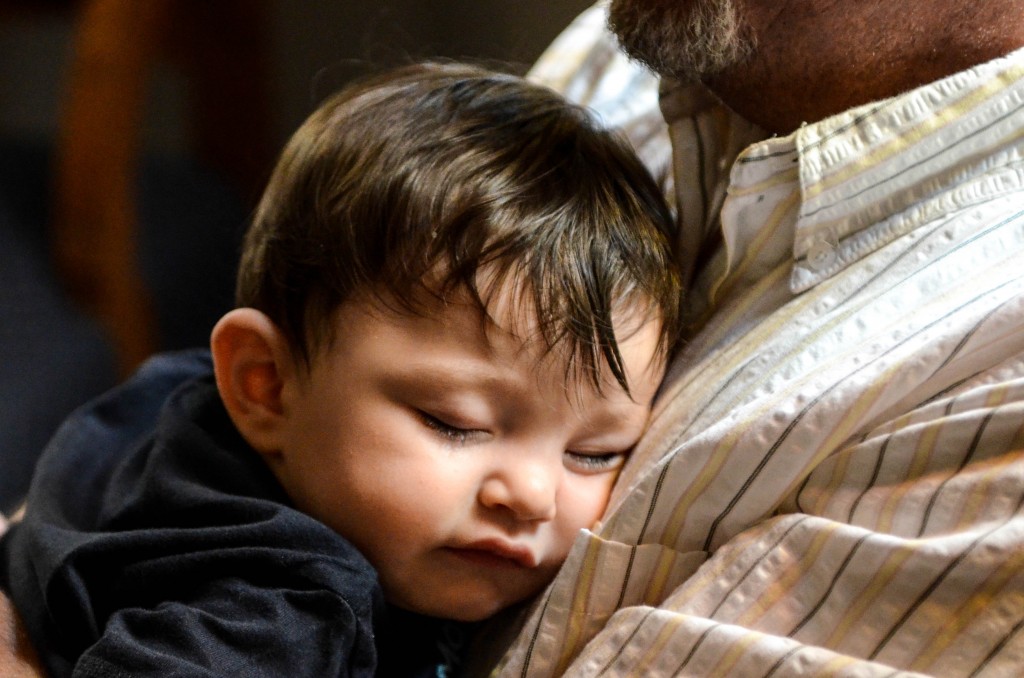 Proverbs 17:6 reads, "Grandchildren are the crown of the aged, and the glory of children is their fathers." The point is that grandchildren are beautiful jewels that grandparents wear like strings of pearls.

In leading funeral services I have often found myself comforting grandchildren by telling them what a treasure they have been to their grandparents. Looking down from the pulpit to the tear filled eyes of grieving grandchildren. My heart hurts for them.
On many such occasions, I have commented on the meaning of Proverbs 17:6. I say something like the following:
For the grandchildren, my heart goes out to you. There is something your grandma would want me to say publicly to you based on the meaning of Proverbs 17:6.
Proverbs 17:6 tells us that grandchildren are the crowned of the aged. That means that for your grandma, you were like a beautiful crown. She "wore" you around and you are far more beautiful than crowned jewels. So the Bible tells us: "Children's children are a crown to the aged."
There are queens in the world who wear diamonds or rubies that are worth more than the value of all our homes combined. You know that your grandma didn't have a crown like that. But what she had was far more valuable than diamonds or rubies.
For their part, most grandparents find it easy to agree with  Kitchen's (375)  comment on Proverbs 17:6:
The elderly man (Proverbs 16:31) finds a 'crown' of reward and honor in being surrounded by grandchildren (Gen 48:11, Psalm 128:5-6). His life has mattered, it continues on, in a sense, through succeeding generations. He has not only raised up godly sons and daughters, but he has raised them to raise up the same kind of children. There is hope for the future!
We should not miss that the relationship flows both ways. The meaning of Proverbs 17:6 also encourages us that, "the glory of children is their fathers." Nothing so adorns children, and brightens their lives, like godly fathers and mothers.
Kitchen (376) goes on to warn that it is not necessarily the case that grandchildren are a blessing to their parents, any more than fathers necessarily bring glory to their children.
 He who sires a fool gets himself sorrow, and the father of a fool has no joy. Proverbs 17:21 ESV.
 A foolish son is a grief to his father and bitterness to her who bore him. Proverbs 17:25 ESV.
*********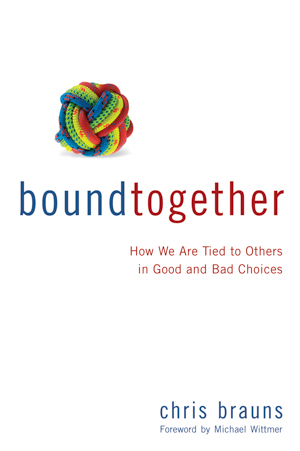 One of the reasons I wrote my book, Bound Together: How We Are Tied To Others in Good and Bad Choices, was to encourage people who have family members making poor choices. In the introduction to chapter 8, "A Red Rope for Hurting Families," I wrote:
How do you comfort someone who has a family member making poor decisions? For the nearly twenty years as a pastor, I have been prayerfully considering how to answer that question. What does a pastor say to a mother or father whose adult son is homeless because of drug addiction? Or to parents whose children have been arrested for a felony? Or to those whose children have denied the faith? What do you say to the father of a prodigal who has despised his family and travelled to a far country to squander his inheritance in riotous living (Luke 15:1-30)?
How does a pastor comfort a man who has found his unrepentant wife in bed with another man? How do you counsel a wife when her husband tells his her that she must accept his infidelity as a way of life?
If you are going through the pain of a wayward child, an unfaithful spouse, or some other broken family relationship, my heart goes out to you. I'm not sure that there is any category of pain worse than family pain. I've watched people battle cancer, heart disease, and paralysis. I've seen others lose jobs and careers. Yet, is has been my experience personally, and my observation as a pastor, that there is something uniquely devastating about the pain of a rebellious family member.
Even if you have not endured the pain of a loved one turning away from Christ, you have undoubtedly seen the varied emotions of those whose family members have let them down. Some are angry. Husbands blame wives and wives blame husbands. Others point an accusing finger at the youth group or church where they or their child never connected. Some beat themselves up and are utterly devastated feeling that they have failed those they love the most. Others toss in bed wondering where their son or daughter or husband or wife will spend eternity.
Many who have family members making decisions with eternally negative consequences simply live in denial. They don't even ask for prayer. They refuse to face the reality that their loved one will spend eternity apart from Christ. Who among us can think very often of that possibility for people we love? Yet it is there.
I approach this chapter humbly. I haven't arrived at a definitive solution for how to minister to those who have family pain. There will not be complete resolution to that problem until Christ returns.  But this is an area of ministry where the principle of the rope becomes very practical. If you are in pain over a loved one, I pray you will find some comfort here.
As I said at the beginning of this post, I often encourage grieving grandchildren with the meaning of Proverbs 17:6, but I never leave the funeral message simply with that point. It is always my goal to point grieving people to the Good News of the Lord Jesus Christ, because those who know Christ will meet again very soon, gathered around the throne of the Lord Jesus Christ – – in His presence – – all of us jewels who reflect His glory.