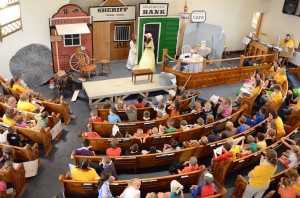 Growth at the Red Brick Church should cause us to evaluate how well our facilities are keeping up. How would visitors from Stillman Valley, Cherry Valley, Rockford, Byron, Oregon, Winnebago, Davis Junction, Rochelle and other surrounding communities grade us? A post from Thom Rainer writes key areas to consider:
The women's restrooms. Almost 100 percent of the female guests we retained addressed this issue. They noticed first and foremost the cleanliness of the restrooms. Then they noticed the convenience of getting to the restrooms. Finally, they noticed the capacity of the restrooms. Did they have to wait in line?
The preschool and nursery area. This area was a focus of near unanimity of young families. Is the area secure? Is it clean? How do I know someone else won't pick up my child? Do the workers appear concerned and qualified?
Parking. Guests often commented on the difficulty or ease of finding a parking spot. Was there a covered drop off if the weather was bad? Were there guest parking spots? Were there reserved places for young mothers and expectant mothers? Were there sufficient handicapped parking places?
Signage and information. Last week my wife and I were in mall we had never visited. The first thing we did was go to a sign that had all the stores and their locations on it. Even small churches can be intimidating to first-time guests. Do you have adequate signage throughout the facilities? Is there an obvious information booth or table? Members know where to go; guests don't.
Worship seating. First time guests desire to find a place to sit as quickly as possible. They feel awkward otherwise. Is your worship center more than 80 percent full? If so, the guests perceive it is completely full. Are your members trained to move to the middle of pews or seat rows so guests don't have to climb over them? Are their ushers or greeters available to lead guests to seats?
Read the entire post from Thom Rainer here.