In theology every word counts.  We need to learn to speak the truth with great accuracy and clarity.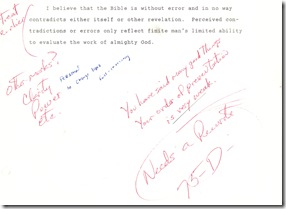 The picture to the right is an actual scan of my first seminary grade.  I need to give a little background so you can understand just how devastated I was by it.  Then, I'll explain why I'm more thankful for it than any grade I've ever received.
In 1990 I left my job working for an R&D based company and went to Grand Rapids Theological Seminary.  It wasn't an easy decision.  An MBA and a degree in chemistry was a good combination in that field and I was off and running working for a Fortune 50 company. 
Yet, Jamie and I believed God was calling us into vocational Christian ministry, and I finally consented to going, with all the eagerness that Jonah modeled on his way to Ninevah.  I hummed, "So send I you to labor unrewarded," while I cleaned out my desk.
Having made the choice to leave a career I enjoyed, I was intensely motivated to do well at seminary.  By this time, I was so excited to be at seminary I could hardly stand it.  I looked forward to every class.  I started out with the Systematic Theology track with Dr. Crawford and our first assignment was to write a confession on the doctrine of Scripture.  Writing had always been easy for me as an undergraduate and graduate student.  But, I was a bit nervous so I took no chances.  Even though the confessional statement could only be two pages long, I wrote no less than seven different drafts.  After writing each draft I meticulously reviewed it and then made corrections.  To this day I still have every one of those drafts.  Each one worse than the one before, as it turns out.
When the day came for Dr. Crawford to return the assignments, I prayed with the all the urgency of Daniel in the Lion's Den that I would get  an "A" .  I saw the grade I received as a test of whether or not I should have gone to seminary.  I wouldn't have admitted it, but I probably felt a little like God owed me an "A" since I had answered the call.
And, I got a "D-", as seen above.  Not just a "D", but a "D-."  I scheduled a meeting to talk to Dr. Crawford and he gave me the general impression that a "D-" was a gift – – that he probably shouldn't have even given me that, but he just didn't have the heart to fail me. 
So, what's the point?
In addition to humility, what I learned from Dr. Crawford is that if I am going to preach God's Word, then I will have to select my words with utmost care.  In theology, every single word counts.  Often a preposition is the difference between sound doctrine and blatant heresy.
Which brings me to the sermon I am preparing for this week.  I'll be stressing that we're saved through faith, but not by faith.  We're saved by Christ!  Do you see how one preposition makes the difference between an "A" and an "F."  The statement, we're saved by faith" – – borders on making faith a work.  Instead, we ought to say, "We're saved through faith."
J.I. Packer summarized,
"[Faith] is not a meritorious work, one facet of human righteousness, but rather an appropriating instrument, an empty hand outstretched to receive the free gift of God's righteousness in Christ; that faith is God-given, and is itself the animating principle from which love and good works spontaneously spring; and that communion with God means, not an exotic rapture of mystical ecstasy but faith's everyday commerce with the Savior."[1]
And, if I have this wrong, please tell me.  I'm preaching on it Sunday.  Dr. Crawford is with the Lord, so I leave it to one of my readers to give me a "D-."
---
[1] J.I. Packer, "Faith," in The Evangelical Dictionary of Theology, ed. Walter A. Elwell (Grand Rapids: Baker, 1990), 401.