Monday is for meeting other churches and pastors.  One of my concerns for the church in North America today is that local churches are too disconnected from one another. While there are several highly visible churches, many of the people in our local churches have relatively little awareness of what is going on in modest congregations like the Red Brick Church in Stillman Valley, IL.
This week let me introduce you to Andrew Ford of Grand Ledge Baptist Church.  I was the senior pastor of this church for six years and Andrew joined the staff when we were there.  Our involvement in Andrew and Jill coming to GLBC is one of the things we are most thankful for when we look back on our time in Grand Ledge.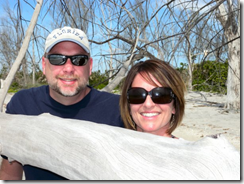 *******
Tell us where your church is at geographically and give us your web site. 
Grand Ledge is in the middle of Michigan.  In between Grand Rapids and Detroit on the I96 corridor that shoots East and West across our fine State.  Our people live in the Lansing capital area, but we meet in a building in and a good chunk of our people come from Grand Ledge, MI.  Our facilities are located just south of the Grand River on Willow Highway near downtown Grand Ledge.  Our website is www.glbc.org .
How long have you been the pastor there?
I've been a pastor in Grand Ledge for ten years.
Tell us about your family.
I am married to Jill.  We met at Moody in chapel – well, that's when I first saw her. We were married in 1990 and we are both thankful for the years we have had so far and we look forward to the years ahead as well.  We have three children:  Caleb – a 14 year old who plays a sweet sax and has a sweet personality, Noah – a 12 year old who's sharp in Math, loves to read, and a good thinker, and Abby who is 9 – she's all girl and knows how to keep up with her big brothers – she'll make a good wife some day.
Is there a blog or web site where we can read more about you?
I blog lightly with my fellow co-pastors at Triangular Christianity. 
What is the theological or denominational heritage of your church?  Is that identity changed?
We started as a Free Will Baptist Church back before Calvinists were allowed in our town, but now even though we carry the name Baptist, we minister to a wide variety of people will various theological backgrounds.  The Pastors lean towards Reformed theology but we love all kinds of believers! 
Are there any other pastoral staff?
There are three of us: Brian, John and myself.  We share the preaching and leadership responsibilities while specializing in our own areas of ministry.  We love to work as a team and work hard at it – we think we have found the sweet spot for church leadership models, and appreciate our fellow elders and congregation's graciousness to let us lead in this manner.
Briefly, what is your approach to preaching?  Do you topical series?  Book by book?
We primarily preach through books, but at times we preach topical series in an expository way.  Recently we have preached through Revelation, James, Exodus, Malachi, Colossians, 1 Peter, 1 John, and Matthew with a few topical series here there such as Prayer, Idols of the Heart (from Ecclesiastes), God's Help for Relationships, Covenant Keeping, 2nd Story Essentials (the upper room discourse) and Jesus & His Kingdom.
We each preach about 1/3rd of the time, and find it a wonderful way to do pastoral ministry.  We each have different styles and our congregation enjoys the variety.  We discuss the direction of each book early on in the sermon calendar and often spend Monday afternoons talking about the text for the next Sunday.  It is helpful and keeps us on track together.
What is currently being preached on at your church?  Can we listen online?
We just finished Colossians!  We start a sermon series on vocation on February 7th called:  Your Work Matters to God.
You can listen to all our sermons online at www.glbc.org .
What style of music do you use as a part of your worship service?
We aim for a blended style under the direction of our qualified and creative worship leader – Tim Vandlen.  We recognize that our body is made up of young families, senior citizens and everyone in between, therefore, we aim for the middle: keeping old solid hymns fresh and trying new songs that are sing-able and biblical.
Why should someone who lives in your area and is looking for a church home think about visiting your church?
We are all about Jesus Christ.
We preach the Word in relevant ways. 
We seek to move outward to reach our community by being the message of Jesus Christ and proclaiming Him.  We know they won't come to us.
We have wide opportunities for people (young and old) to connect and grow to be more like Jesus Christ.
We are a true community church – seeking to make a difference in Grand Ledge and the surrounding area for Jesus Christ.
Tell us about one memory or incident from your church in which you believe God was glorified and you and your flock experienced joy.
Every week during the school year 12 of our people walk into Willow Ridge Elementary School and mentor an at-risk boy or girl.  We are involved in the Kids Hope Mentoring program, and our church has embraced it as a vital connection with our school system and an important investment of time with kids who need love and help.  We think God wants us to love little children.  We are pleased to do it for His glory. 
Andrew Ford, Grand Ledge Baptist Church