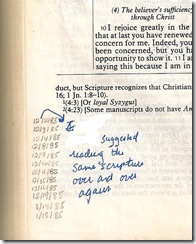 One way to immerse yourself in God's Word is to choose a book of the Bible and read it over and over again.  Each time you read that book, write the date down in your Bible at the end of the book.  The book of Titus is a good place to begin.
************
In 1985 I knew that I needed to grow spiritually, but I didn't know sic 'em about how to get started.
By God's grace, I got involved in a Christ-centered church and started attending Campus Bible Fellowship at the University of Northern Iowa which was one of the best decisions I ever made.  We were led by our intrepid leader, the late Tom Hammond, and the fruit of the ministry continues to this day.
Along with being in church and under Tom's leadership, I also knew that I needed to be a man of the Word – – – – but I didn't know beans from buckshot about how to get started.
A friend suggested that I would really get to know the Word if I chose a particular book of the Bible and read it over and over again.  So, I bought a NIV Scofield Bible at the CBF bookstore.  At the time, we thought there was nothing more cutting edge than a combination of the NIV and Scofield's notes.  I started reading Philippians over and over again.
In the beginning, each time I read Philippians, I wrote the date down in my Scofield Bible at the end of Philippians.  I still have the Bible and you can see a scan above of a number of days in 1985 and early 1986 when I read Philippians (note that I forgot to change the year in January).
I quickly learned that it was easy to just go through the motions of reading Philippians.  So, I determined that each time I read it, I would try and identify at least one thing that I had missed before, that I could focus and meditate on.  Often, I would write a note in the margin of my Bible.
Along with that, I attended CBF and Cedar Heights Baptist Church and prayerfully processed all that I was learning with other believers.
Twenty four years later, one of my major goals in the next five years is to see God develop Brick leaders.  To that end, I will be challenging our men to use the strategy of really getting to know a book of the Bible.  In our case, I will be encouraging them to read the book of Titus over and over again.
I'll post more about why I am choosing Titus in the very near future.  For now, read Titus repeatedly.  Discipline yourself to prayerfully identify a fresh insight with every reading (Psalm 119:18 – – see this post).  Write the date down each time you do so.