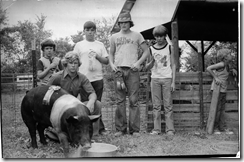 I'm biased, but I don't think there is a better place to grow up than on a farm in Iowa.  Thirty seven years ago, I won an award at the Van Buren County Fair in my hometown, Keosauqua, IA.
This is how I wrote down the story for my daughter when her third grade class was learning about pigs.  I'm the one on the left.
*************
When I was nine years old I got to have my own pigs.  My dad let me choose three small pigs, about the size of your cocker spaniel, Mandy, for my very own.  We put them in their own building and I took care of them.  All spring and summer I carried feed and water up the hill and cleaned their pen.  When it was cold, the water would freeze on my coveralls.  And, the wire handles would dig into my fingers.  I was little and it was a long ways up the hill, so I would have to stop and rest every 10 yards or so.  But, the pigs kept growing and in July I planned to take them to the county fair.  One of my pigs was the very fattest and I thought he might win like Orville Wilbur in Charlotte's Web.
I was so excited when it was time to go to the fair it was hard to sleep.  The man who hauled my dads pigs to market, Howard Steeples, told me that he would take my pigs in his big truck to the fairgrounds for free.  Early in the morning on fair day we loaded them up with a special ramp (a loading chute we called it) and went to the fair.  The fair was a blast.  There were places to buy candy and throw darts at balloons for prizes and even a couple of rides.  The Methodist church served meals and you could buy homemade pie.  The Jaycees sold cotton candy.  Animals were everywhere.  There were sheep, horses, cows, chickens, and, of course, lots of pigs.  Boys and girls of all ages were bringing livestock in from all over the county and their dads would help unload them and put them in special pens.  One time a cow got away.  It ran around awhile.  On the farm that would have been hard.  But, there were so many farmers to help at the fair that it was soon caught.  The kids all loved seeing their dads chase a cow with the other dads.  I still remember  one farmer with big muscles pulling on the rope when they finally caught the cow.  The rope looked like it might break.
My pigs were in their own pen and I had to wait a day or two for the big pig show.  There was a special place for the show.  They called it the show ring.  It had a roof over it, but the sides were open to the outside.  There were bleachers and people from all over our county watched like it was a baseball game.   Some of the town kids who watched Bonanza while I was doing chores were there, but they didn't have their own pigs.  Mostly other farmers were there.  Where I lived, most people were farmers.
The show was scary.  They told us to fill out a form for my pigs with a magic marker.  I didn't know what to put in the blanks and when I did write something down the man in charge laughed at me and said to do it again.  Your grandpa tried to help but he didn't really know what they wanted either.  I was supposed to put down what kind of pig I had and I wasn't even sure what kind to write.  We finally just wrote "Duroc-cross."  Duroc is a kind of pig.  To this day, I don't know if my pig was really a Duroc.  (The pig in the picture is a Hampshire or as farmers say, a "hamp.")
I had taken care of many pigs but I had never done anything like this.  I was only nine.  Others showing pigs were in high school and they had special show sticks with leather handles and fancy little gates with their names painted on them.  Their dads were backing up their pickups and taking out special wooden chests with all kinds of show equipment.  I didn't have any of that stuff and I  borrowed a show stick from someone else.   We had read in a book how to clean our pigs and make them look nice.  But, I was nervous that we did it the wrong way or that I might mess up in the ring.  Your grandpa helped me get my pigs over to the show ring, but I had to do the rest by myself.
At first, it was confusing.  I felt like everyone was looking at me saying, "that kid doesn't know what he's doing."  There were many pigs and other boys and girls running around the ring.  Cows and horses can be trained to stand in one place.  Pigs run all over.  Soon, I was so busy keeping track of my pigs that I forgot about being scared.  It was a good thing.  Some of the pigs were mean and I had to watch out.  I couldn't kick the pigs because they weren't mine.  I didn't have a fancy little gate.  But, when other pigs came around to bother mine I would put my knees together right in front of them and stand my ground just like I did in your grandpa's barn and they would go away.  Other kids, even bigger ones, were a little scared.  But, I knew what to do.  Your grandparents weren't worried one bit.  They knew I could handle pigs even though I was only nine.  I did it all the time on our farm.
The judge was a woman and she inspected our pigs like they were in the Miss America Pageant.  She looked them up and down and walked around so she could see them from different sides.  She didn't smile or make faces.  I couldn't tell what she was thinking.  It seemed like we showed our pigs for hours but it was probably only a little bit.  Finally, she took a microphone and told all the people what she liked and didn't like about all the pigs in the ring.  I felt kind of bad because she didn't like my pigs.  She thought they were so bad that I had to leave the ring first.  Over the microphone, she said that my biggest pig was too fat.  I thought pigs were supposed to be fat!  She said that one of my other pigs (the one we thought was the best) had short front legs.  One of the older boys had the grand champion.  My throat felt really tight and my face was red.  I tried hard not to blink because I knew there would be tears in my eyes if I did.  I had carried all those buckets of water and feed up the hill; these were the best pigs from our farm.  It was hard not to cry when someone said they weren't very good.
Just when I thought everything was over, I heard my name over the loudspeaker.  A high school girl and I were finalist for the showmanship award.  I didn't even know there was a showmanship award.  Someone had to tell me.  It was given to the person who did the best job showing pigs.  This meant that the two of us got to show our pigs in front of everyone in a contest to see who would do better.  It seemed like everyone from my little town was watching.  Many of my dads farmer friends were there; they wore seed corn caps and leaned up against the fence watching.  One truck driver named Sam Jones always smoked a corn-cob pipe.  He was there.  Boys from my 4H club looked between the boards of the fence; feed salesman and auctioneers and men from the sale barn were all there.  Your grandmother and aunts sat in the bleachers.   Everyone watched to see who would be better at showing their pigs, me or this other girl.
I wasn't scared by this time.  There was just too much to do.  I had three pigs in the ring and the other girl had three pigs as well.  We were supposed to keep them separate, but one of the other girls pigs tried to go to my side of the ring.   I wasn't too rough, but I put my knees together and wouldn't let the other pig get through.  I can still remember that moment even today.  The other pig stopped and went back.
Finally the judge told us that we could stop.  She said that the other girl did a nice job, but I was the winner.  I had done the best job showing pigs of anyone in the whole county.  I got a special ribbon and my picture was in our county paper right there with the grand champion pig and some of the other boys who won.
There is a copy of the picture below.  I don't know what happened to all the boys in the picture.  The smallest boy on the right is Ricky Greenfield.  He is an eye doctor now.  The boy next to him with the number shirt on is his cousin Brian Caves.  He is a farmer and goes to your grandma's church.  Can you tell which one I am?
Later that year there was an awards banquet at the Roberts Building on the fairgrounds on the edge of our little town.  All the special awards from the fair were given out.  When the ceremony began, I could look up at the stage and there were rows of trophies.  I wondered if I would get one of those trophies.  Finally, it was time for the showmanship award.  The man who announced me as the winner was the same one who laughed at me when I made the sign wrong.  He hadn't really meant to hurt my feelings.  He just didn't know that I was scared.  Anyway, this time he didn't laugh.  When he called my named he said, "Chris is the youngest to ever one this award."  I got a trophy and I still have it today.  Your grandparents were there.