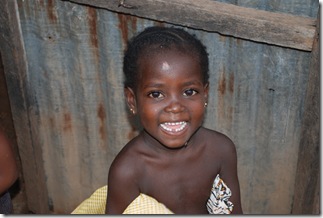 When I recently went to Togo, Miss Mango won the pageant – going away.  Standing adjacent to a sewage covered field, next to the hut of a man who was in agony with a broken leg and few medical options, I took the picture of this little girl.  As you know, if you read this blog, I've been thinking about her ever since.
I am praying she will get help.
"Miss Mango" was a name borne of prayer convenience.  My family first prayed for "Mango" (the name of the town).  But, that didn't sound quite right and I decided to call her "Miss Mango."
Which got my mind going about the pageant and I thought of some of the decisions Donald Trump has made to allow contestants to continue (or not continue as the case may be).  I haven't expended enough energy to have an opinion about whether or not Miss California should continue to wear the crown, but if I had the chance, I would be happy to try and persuade Donald Trump that Miss Mango deserves our help.
What do you think – – should Donald Trump (or someone else give this little girl a break?)  Can you look at this little girl, and not be convinced that she deserves to be Miss Mango?
Asked another way, "How can we live in a world which gives so much attention to a beauty pageant when for a small sacrifice we could help Miss Mango?"
I recently wrote to Kay Washer (see here), who beside her husband Dallas, opened ABWE's field in Togo.  Mrs. Washer also started a school for blind and personally received an award from the president of Togo.  I asked Kay if she would pray for Miss Mango, and this is what she said.
Thank you for the precious pictures of your trip to Mango. . . I, too, will put "Miss Mango" up in my kitchen where I can pray for her and the future of the work in that area.  She will join my great-grandchildren on my frig door.  It is my "prayer board" and constantly reminds me of the prayer needs of my family and friends.
She also wrote:
I am so thankful that you are the co-chair of the [Steering Committee] for the Northern Outreach Project.  I am sure that all you men of God will know how to promote and make known the great need of the hospital in Mango.  If people could only know how God has used medicine and the present hospital to win many, many souls to Christ, they would be thrilled to be a part of this new opportunity.  Many churches have been planted in Togo and are growing strong like young mango trees that grow big and bear an abundance of delicious, sweet fruit.  They are the fruit we need for future pastors and leaders for Africa.
Prayer from Kay Washer is a good start for Miss Mango.  But, how about you?  Would you pray for her, too?  If you'd like, I'll send you a picture of her for your fridge (at my expense).  Just e-mail mail me your address (chris at theredbrickchurch.org)