I am giving away two books and two daughters.  There is a possibility you could win one or both.  (Though you can't win two books or two daughters: Maximum of one each).
How to Win the Books
If you want to win a free copy of What He Must Be . . . If He Wants to Marry My Daughter by Voddie Baucham, then do 2 things.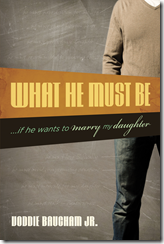 (1) Subscribe to my blog by either a feed reader or e-mail (click here).  To understand feed readers, go here.
(2) Send me an e-mail saying you subscribed.  Chris (at sign) theredbrickchurch.org.  If you've already subscribed to my blog send me an e-mail.
I will announce the winners of the 2 copies of What He Must Be . . . on Friday, March 20.
How to Win My Daughters
First, a little plug for my girls.  Fortunately they favor their mother and are both drop dead gorgeous.  They have brown hair.  One has blue eyes.  One has brown.  That's a preference thing and you can decide which interests you more.  They're both smart and have a great sense of humor.
My wife is smart, loyal, beautiful, hard working, loves babies, and laughs at my jokes.  My grandpa always told me to look at a girl's mom when considering a wife.
You will need to wait 10 and 19 years respectively to even talk with either of my daughters.  But, they are worth the wait (see Genesis 29:20, it will seem like only a few days).
Note: My daughters have some input in the decision about their marriages.  You will need to persuade them as well.  But, I assure you that I am the more difficult hurdle to clear.  See the chapter in Voddie's book, "The Role of a Father."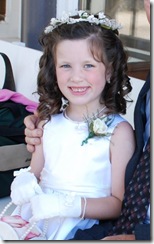 If you want to win one of my daughters:
(1) The first thing you must do is, using only a pocket knife, stalk,  kill and field dress a grizzly bear.  Please have the hide tanned.  We will use it as a rug, and as it was part of you winning one of our daughter's, it will mean a great deal to our family.
(2) Second, read the new book by Voddie Baucham, What He Must Be . . . if He Wants to Marry My Daughter.  In this excellent book, Voddie lays out a vision for what we dream the men who marry our daughters should be like.  He writes:
"My desire in this book is to kill two birds with one stone.  First, I want to lay out a clear, balanced, realistic, biblical picture of what moms and dads should be looking for on behalf of their daughters and seeking to produce in their sons.  Unfortunately, most parents give little or no thought to what it takes to raise godly men."
If you read Voddie's book, then you will have a clear expectation of what I am looking for in applicants for my future son-in-laws.
Truly a Christian
Prepared to lead like Christ
A love for children
A protector and provider
And, much more. . .
Fathers: Let me be very serious about this.  I plan to inventory this book.  I will ask my daughters to read it.  I will share the content and book with my sons.  I pray my boys will be godly leaders in their homes.  I believe any parent who has unmarried children will want to have this book on hand as they prepare their children for marriage.
Where my daughters are concerned, future son-in-laws will be required to read Voddie's book, after they kill the bear.